Hadashi no Gen 2 (Barefoot Gen 2)
(1986)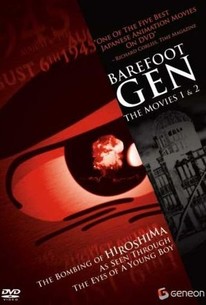 AUDIENCE SCORE
Critic Consensus: No consensus yet.
Movie Info
Three years after the Hiroshima bombing, Gen and his adopted brother, Ryuta, befriend a group of orphans. A fierce typhoon hits the city, leaving the orphans' home flooded and beyond repair. Gen helps them build a new home on an abandoned piece of property, and brings love and encouragement to one of the children whose face has been badly scarred by radiation. Gen's mother, though, has only four more months to live...
Critic Reviews for Hadashi no Gen 2 (Barefoot Gen 2)
All Critics (1) | Fresh (1) | Rotten (0)
While Barefoot Gen 2 may play itself out as a sort of plucky boys' own adventure, this animated feature allows glimpses of far grimmer realities to be exposed.
Audience Reviews for Hadashi no Gen 2 (Barefoot Gen 2)
It's easy to get skeptical about this sequel considering the first film's narrative seemed to tie itself up pretty tightly. This sequel to the masterpiece anti-war story based off the semi-autobiographical manga about the Hiroshima bombing could have easily have been a cheap cash-in, but thankfully this is far from the case. Taking place three years after the fateful bombing, the film follows Gen as he bonds with a group of orphans while still dealing the lingering effects of the bombings aftermath. Not only does it show the lingering effects of the bombs damage but the long-term effects on the lives of the Hiroshima population. Hiroshima still remains a desolate desert-like landscape but the film shows the slow signs of recovery throughout. One of the most prominent theme of the film is moving on but never forgetting the past. This theme is displayed masterfully throughout by portraying the still visible reminders of that fateful day on August 6th 1945. One of the most biggest improvements this film has over it's predecessor is the animation. Released three years after the first film, the animation is a lot more crisp and clean. Plus the story is more smooth than the original, with scenes seeming less episodic in nature than the first. The story told in the sequel offers a meaningful continuation of the first film, showing Gen's hardships in earning daily food to keep his family alive while his mother begins to slowly succumb to radiation poisoning. 'Barefoot Gen 2' pulls it's own set of emotional punches but doesn't nearly reach the emotional heights of the first film. Watching the original 'Barefoot Gen' is strongly advised since the story builds upon the events of the first. A high quality sequel that makes for a great companion to the original.
Christopher Heim
Super Reviewer
Hadashi no Gen 2 (Barefoot Gen 2) Quotes
There are no approved quotes yet for this movie.