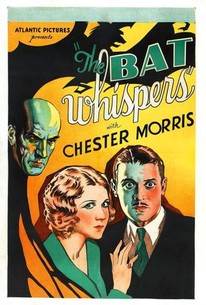 The Bat Whispers
1930, Mystery & thriller/Comedy, 1h 22m
11 Reviews
100+ Ratings
Rate And Review
Movie Info
Infamous burglar "The Bat" commits a daring jewelry theft despite heavy police presence. Soon after, a bank theft occurs, which may be the work of the criminal as well. Meanwhile, Cornelia Van Gorder (Grayce Hampton) has various people arrive at her old mansion, including her niece, Dale (Una Merkel), a bank employee, and police detective Anderson (Chester Morris). When guests start turning up dead, Cornelia begins to suspect that The Bat may be lurking around the estate.
Audience Reviews for The Bat Whispers
What a wonderful, classic old whodunit. Wonderful sets, dark, visual footprint, creepy atmosphere, good, fun mystery, plot twists and humor. Withstands the test of time, if you can appreciate they type of filmmaking it represents in its contemporary context. They sure don't make them like this anymore. It's a gem!

Well folks we made it through the month of October and I still can't sleep at night. That's a good thing. We are going to be marching on throughout the rest of the year in mostly chronological order, and I am currently working on a new format for my reviews, just working out some of the kinks. The Bat Whispers is one of the more thriller heavy horrors flicks.The movie focuses on the crime side of its narrative a little heavier than its horror side, however it does have its spooky moments. Make sure to get a good version to watch, some copies are know to have quiet audio, I had to turn my television all the way up past eleven just to hear it. The movie has some amazing shots and even better sets that make it look just like a noir comic book. For sets the producers use everything from trick photography to scale models. The movie is very dark and has this almost freakish tone that really sets a mood. The narrative is about a caped theif/killer called 'The Bat' who terrorizes the occupants of an old mansion. The art in the movie is superb, the audio sucks but it was the 30's. This is a depression era movie so it is passable. The acting is pretty bad, but again the depression was afoot so people were... depressed. Passable. This movie serves as a precursor to great noir films like The Killing and Vertigo. The latter was directed by Hitchcock. I cannot wait to get into some of his stuff. The scariest part of this movie would have to be its dark tone and lack of soundtrack, both make for one creepy, dark movie. The premise is mostly mystery but the tone makes it horror. The use of light, or lack thereof, is amazing, it really adds something to it. I am going to give The Bat Whispers a 5 out of 10. The movie is great but the thrills are just two few and far between. The action is great and the film is well done but that doesn't make it a great Horror movie. Who am I? Who do you think I am? W.T. Jones. Super-sleuth of Oakdale County S!D

Excellent considering when it was made.
See Details