Ching yan (The Beast Stalker)
(2008)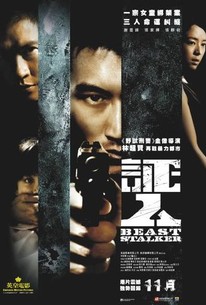 AUDIENCE SCORE
Critic Consensus: No consensus yet.
Movie Info
A hotheaded cop seeks repentance for a mistake from the past by rescuing the kidnapped daughter of a high profile lawyer. Police sergeant Tong (Nicholas Tse) is dressing down his crew following a botched stakeout when he spots the fugitive attempting a daring escape. Hastily speeding to catch the fleeing triad boss, Tong inadvertently kills one of lawyer Ann Gao (Zhang Jingchu)'s twin daughters. Ann is the lawyer preparing to try the boss' case, and she's resisting pressure to fix the trial. When Ann's other daughter is kidnapped by volatile hit man Hung (Nick Cheung), Tong vows to control his impulsive temper long enough to rescue the frightened young girl. But in order to save Ann's daughter Tong will need some serious help from the same colleagues he once so callously abused. Getting the girl back will be a serious gamble, but as Tong and Hung engage one another in a treacherous game of cat and mouse, the trial looms closer and the stakes get higher. ~ Jason Buchanan, Rovi
Critic Reviews for Ching yan (The Beast Stalker)
All Critics (2) | Top Critics (1) | Fresh (2) | Rotten (0)
A movie that has all the best elements of a great Hong Kong action film: It's over the top and ingeniously plotted (even if that plot strains credibility) and never stops moving.
Beast Stalker isn't interested in traditional narrative logic, indulging in the extreme emotional pathos of its far-fetched scenario and the occasional glimpses of humanity that can shine through in even the worst circumstances.
Audience Reviews for Ching yan (The Beast Stalker)
There are a number of Hong Kong crime thriller movies seen from year to year and Dante Lam delivers a great one known as The Beast Stalker.
At a high level there is nothing out of the ordinary in regards to the story, but when it comes down to it, there is more than meets the eye. This 1 hour 45 minute production will not fly by and this is not surprising. These types of films out of Hong Kong, the better ones anyway, tend to be slower paced with emphasis on characters.
After a more than decent action sequence in the beginning, the next hour and 15 minutes play out like a typical police investigation, with the exception that the lead investigator works on his own rather than having a whole squad working under him. The good camerawork and interesting story help this part from becoming a bore. The final half an hour is one impressive piece of work. The action picks up and the suspense factor is really high. The conclusion is also nicely written.
Nicholas Tse is no stranger to this type of lead role, however he doesn't really impress until the ending, when he brings out the drama. Nick Cheung is a suitable villain and the makeup work is well done. Jingchu Zhang has already proven to me that she is one of the better young actresses out of Hong Kong and she is fantastic in here. It almost seems as if this is an easy role for her to pull off too. Wong Suet-Yin is just adorable as Ling.
The Beast Stalker isn't an explosive blockbuster thriller. It is merely a solid piece of work that delivers from all sides. This is a film to consider watching if the situation arises.
½
Can be incredibly confusing, slow, and overacted by Tse that it makes it hard to comprehend. But a gritty undertone, a satisfying conclusion and a great performance by the always good Nick Cheung makes up for its often boring storyline.
Caius Chung
Super Reviewer
Ching yan (The Beast Stalker) Quotes
There are no approved quotes yet for this movie.