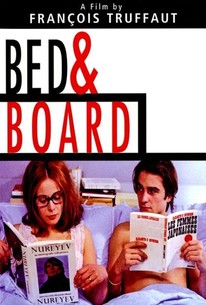 Bed and Board
1970, Comedy/Drama, 1h 37m
21 Reviews
2,500+ Ratings
Rate And Review
Movie Info
Parisian everyman Antoine Doinel (Jean-Pierre Léaud) has married his sweetheart Christine Darbon (Claude Jade), and the newlyweds have set up a cozy domestic life of selling flowers and giving violin lessons while Antoine fitfully works on his long-gestating novel. As Christine becomes pregnant with the couple's first child, Antoine finds himself enraptured with a young Japanese beauty (Mademoiselle Hiroko). The complications change the course of their relationship forever.
Audience Reviews for Bed and Board
Antoine Doinel at a pay phone: <i>Hello? Hello, may I speak to Jean? Ah, hello madame Eustache. May I speak to Jean Eustache, please? Please tell him Antoine Doinel is a father! Yes yes, tell him Antoine Doinel has a little boy. Thank you. Don't forget to give him the message.</i> *Edgar's brain starts to work* Ohhhh, I get it! Oh these crazy references y'all! ------------------- Well, the film joyously opens with Christine Darbon from the previous installment <i>Stolen Kisses</i> (1968) as the new Christine Darbon Doinel. So yes, as implied by the famous cover of the film, the girlfriend from <i>Stolen Kisses</i> is now a wife. It definitely has been a long way since Antoine ran to the sea in 1959. There is a theory circulating that claims that as the "Antoine Doinel series" kept moving forward, the character itself started to resemble Truffaut less and became closer to Jean-Pierre Léaud himself. Of course, this is impossible for us to know for sure unless we had met both Truffaut and Léaud personally back in the 60s. It is a curious thought, however, because Léaud was 15 years old in <i>The 400 Blows</i>, and 26 by the time <i>Domicile Conjugal</i> came out. Léaud was famous for improvising his dialogues and providing ideas to any director that worked with him. Truffaut, therefore, not only had to adapt his new character to his changing growth stages, but to a real-life changing Paris, changing social trends, changing unstable times in France as a nation, changing film censors and a changing Léaud in real life. No wonder why his style began to mutate, and rather unevenly. This implied that his films got more accessible each time. Although the free-spirited and improvisatory magic of the adventurous <i>Stolen Kisses</i> wasn't maintained 100%, this is definitely his funniest film. The gags and comedic moments remind of the subtlety of Tati in <i>Mon Oncle</i> (1958), although not as masterful or precise. Still, this movie still has the ability to transport anybody to a much simpler world where problems are kept in proportion and both Léaud and Jade kept growing in their careers. 77/100

I also recently saw "Stolen Kisses" (the preceding entry in Truffaut's Antoine Doinel series), and "Bed & Board" does not match that film's charms. Like "Stolen Kisses," "Bed & Board" doesn't have much plot in the traditional sense, and instead just comes off like a quick eavesdrop into what's new with Antoine. Now he's married to Christine (Claude Jude, the same gamine cutie from "Stolen Kisses"), and the couple outputs a son in a highly casual, undramatic way. However, tensions arise when Antoine has a fling with a kimono'ed Japanese woman who barely speaks English. The story doesn't go much further than this, though it dabbles with subplots for some more minor characters, such as a surly neighbor, another sexually aggressive one and a pitiful friend who continually borrows money. But intentionally, none of these fragments pay off in a satisfying way. Trainspotters might watch for a brief "special effect" involving a blossoming flower which seems notably outside Truffaut's usual directing style.

Francois Truffaut is the family member, maybe an uncle or a distant cousin, who always tells good stories. He may narrate the simplest episodes with a tenderness, an openness of spirit, that engages. He is the most creative director whose work I have ever seen. He infuses all of his films with sincerity and beauty that can only really be achieved through a deep, deep admiration for the art of cinema and for the tiniest details of human life. Bed and Board may not be the world's most interesting movie on paper, but when you're watching it, it is. Antoine Doinel is a newlywed in Bed and Board. His wife is the wonderful Claude Jade, so cute as Christine. Their daily life is quaint, relaxed, very intimate. They are going to have a baby. Antoine happens to meet a Japanese girl whose allure he can't resist, and begins an affair with her. Ever the free spirit, Antoine has a hard time conforming with a fixed situation, a fixed location, a fixed girlfriend. He loves his wife, but he can't bring himself to resist external temptations. Christine is very polite, proper, bourgeoise, and we all know Antoine's upbringing was not exactly the same... so at times he feels uncomfortable in this new lifestyle, he needs a break. Bed and Board tells a sweet story about sacrificing the constant search for excitement and the ideallistic notions we have about what we want our lives to be, and the process of giving value to what we do have. Antoine doesn't have to settle down if he doesn't want to, he just has to go through all these things, ups and downs, to discover by himself that he DOES want to. Happens to everyone. Happens in life. Happened to Truffaut, and happens here. Things fall in and out of place, situations are never clear, everything is relative to everyone. Soon Antoine will discover where his loyalty lies. Maybe this is all unexciting on paper. And yet it is so enrapturing when watched. Bed and Board is funny and witty as much as it is romantic. Truffaut can elevate anyone's emotional intelligence with his craft. Jean Pierre Leaud never disappoints, especially not when playing Antoine Doinel, possibly his most important role ever. I can't wait to see Baisers Voles now.

Not quite as good as Stolen Kisses, or the 400 Blows, but the 4th Antoine Doinel movie still much to say about marriage and life in general.
See Details