The Bedroom Window
(1987)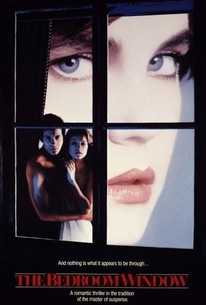 The Bedroom Window Videos
The Bedroom Window Photos
Movie Info
When his lover witnesses a crime from his bedroom window, a man agrees to go to the police on her behalf in order to keep their affair secret. But the man soon discovers there is much more to the story than there seems in this Hitchcock-inspired thriller.
Rating:
R (adult situations/language, nudity, violence)
Genre:
Directed By:
Written By:
In Theaters:
On DVD:
Runtime:
Studio:
Vestron Video
Critic Reviews for The Bedroom Window
Audience Reviews for The Bedroom Window
A surprisingly good ode to Hitchcock with Guttenberg as the lead.Still doesn't seem to make sense that a well done thriller had Guttenberg as the main character but it does.
bill secor
A made for TV movie at best! Poorly acted, predictable, Steve should stick to Police Academy. Regret not cutting our losses after 10 minutes.
Smith Smith
This is a fine Hitchcockian thriller with a crackerjack script by director Curtis Hanson ("L.A. Confidential"). "The Bedroom Window" is best appreciated cold so I'll just hint at the plot. The hero (Steve Guttenberg) makes a well-intentioned mistake early in the film with some serious unintended consequences for him later. His white lie turns into a mountain of trouble. There's a cruel logic to what unspools, and his attempts to extricate himself seem perfectly rational, but the noose gets tighter anyway. The twists here are jazzy and (mostly) unpredictable though the last half hour or so isn't quite as sharp as the rest of the film. It loses some plausibility, but that's a minor complaint in a thriller and this is a gem of a movie. So why is this film nearly forgotten today? Well, first, there's the problem of Steve Guttenberg. You hate him, don't you? I don't think he's nearly as bad an actor as his reputation suggests - he's likable in this - but maybe Hanson should've cast someone with a little more edge. No matter how much I plead this movie's case, you're just not going to watch a Steve Guttenberg movie, are you? Second is Hanson's unremarkable direction. It doesn't have the visual flair of Hitchcock or the Brian DePalma knockoffs of the time which invites inevitable comparisons. Hanson is an excellent screenwriter, but he didn't really find his footing as a director until the '90s and this movie doesn't have any blatant "film geek" moments. He should've spun his camera around like a nut a couple of times and shot more closeups of eyeballs - maybe even threw in some clowns and split screen. Film nerds eat that stuff up and they'd be discussing its "meaning" to this day. ("Hanson SEES the DIZZINESS of the FRACTURED CIRCUS-LIKE urban experience!") But the script is more logical and believable than any of DePalma's efforts, (and even a fair number of Hitchcock's), and it should be appreciated for that. This is a very entertaining suspenser, if you're a fan of those, and it's severely underrated. 4 stars.
Clark Bowman
Discussion Forum
Discuss The Bedroom Window on our Movie forum!