The Big Street
(1942)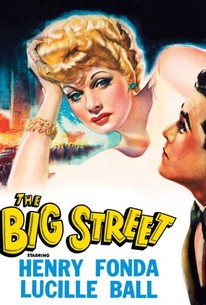 AUDIENCE SCORE
Critic Consensus: No consensus yet.
Movie Info
Lucille Ball delivers the finest dramatic performance of her career in this satisfying adaptation of Damon Runyon's The Big Street. Ball is cast as Gloria, aka "Your Highness," the vain and thoroughly selfish star attraction of gangster Case Ables' (Barton MacLaine) New York nightclub. Henry Fonda costars as busboy Little Pinks, who worships Gloria from afar. When Gloria is crippled by a fall downstairs-caused by a blow across the face by the sadistic Ables-Little Pinks selflessly waits upon the invalided and doggedly ungrateful songstress hand and foot. So devoted to Gloria is Pinks that he's willing to pilot her wheelchair from Manhattan to Florida so that she can renew her romance with callow playboy Decatur Reed (William Orr). Touched by Pinks' loyalty, his Runyonesque friends-Professor B (Ray Collins), Horsethief (Sam Levene), Mr. and Mrs. Nicely-Nicely Johnson (Eugene Pallette, Agnes Moorehead) and all the rest-raise enough money to open a Florida nightclub so that Gloria can put up a brave front. The ending is at once the most lachrymose and most effectively moving scene in the film, one that can only be spoiled if detailed here. Produced by Damon Runyon himself, The Big Street is one of the few completely successful filmed Runyon adaptations-as well as Lucille Ball's finest hour (and a half) on-screen.
Audience Reviews for The Big Street
½
Henry is such a doormat in this you just want to shake him but a very fine supporting cast make it worthwhile and Lucy is mesmerizing in a completely atypical role.
The Big Street Quotes
There are no approved quotes yet for this movie.