Billy's Hollywood Screen Kiss
(1998)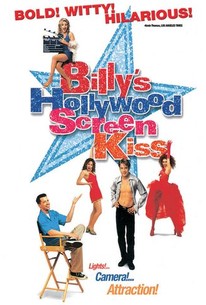 Movie Info
This gay-lifestyle comedy features aspiring photographer Billy who becomes entranced by Gabriel. Billy takes Gabriel on as a model, but Gabriel eventually leaves Billy for better modeling assignments. Several fantasy sequences parody Vertigo, '30's musicals, and From Here to Eternity.
People Who Like this movie also like
Critic Reviews for Billy's Hollywood Screen Kiss
Audience Reviews for Billy's Hollywood Screen Kiss
CUTE! CUTE! CUTE! This is a really quirky and charming movie, and Sean Hayes is just adorable in it.
Cynthia S.
Super Reviewer
If I could I might give this film 2.5 stars. I read one reviewer stating that this was not a "gay" film. I do not know how that statement could possibly be made. Not that it is in any way a problem, and yes the character does go through things that we can all relate to, but for crying out loud, Hayes starts the movie by saying, "Hi, I am a homosexual" and begins speaking to the trials and tribulations of being a homosexual in an overwhelmingly heterosexual world. So let us call it what it is...a movie about navigating the waters of gay life that even a heterosexual can relate to ok? This movie had some potential. Starving artist seeks love in all the wrong places. Finds possible love in a man who is unsure about his own sexuality. The notion of "being there" for someone when he comes out of the closet like a mentor (I have a friend who has stated that he wished he had someone to guide him when he came out). It also had some very brave scenes where one might see this film on stage rather than a screen. Where it falls short? The acting was terrible. So terrible that it overtook everything in the film. You never cared about any of the characters except Sean Hayes (because this is the only character who they built...and they didn't do the greatest job of that). His monologues about the self were done in such a monotone voice that I found myself drifting away as he spoke. It wasn't that they weren't interesting it was simply that he was stating them as if he were on downers rather than the dreamy, reminiscence that they were shooting for. Also, the constant interjection of 5+ minute drag queen love songs...they were fun to start, but they went on forever...kinda like I am doing now. I wanted to like this film. Really, I did, but I didn't. It had a chance to make something great out of itself, but did not get there. Rent it on a dare if you like, but I cannot say this film is one to recommend.
½
dirty cheat of a film, not the performers fault that lays with the script.
Billy's Hollywood Screen Kiss Quotes
There are no approved quotes yet for this movie.