The Black Waters of Echo's Pond
(2010)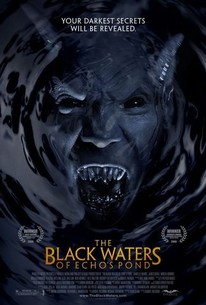 The Black Waters of Echo's Pond Videos
The Black Waters of Echo's Pond Photos
Movie Info
Robert Patrick and Danielle Harris headline this satanic shocker about a group of friends who discover a malevolent board game that unleashes the forces of hell through pent-up emotions. It was supposed to be a relaxing getaway for nine close friends, a carefree trip to a private island far-removed from the cares of the real world. Upon arriving at their gorgeous Victorian home retreat, one member of the group discovers a bizarre game hidden beneath the basement stairwell. Before long the group is gathered around the table, eager to learn the rules and have some fun. But this is no ordinary game, because with each roll of the dice the seething anger that everyone struggles to suppress boils over into a diabolical rage of murder and bloodlust. ~ Jason Buchanan, Rovi
Rating:
R (for bloody horror violence and gore, language, drug use and some sexuality/nudity)
Genre:
,
Directed By:
Written By:
In Theaters:
On DVD:
Runtime:
Studio:
Critic Reviews for The Black Waters of Echo's Pond
Audience Reviews for The Black Waters of Echo's Pond
½
An entertaining if somewhat stupid film featuring scream queen Danielle Harris, Robert Patrick, and the babysitter twins from Planet Terror, The Black Waters of Echo's Pond features nothing remotely original or scary but is an enjoyable little horror movie nonetheless
Al Miller
½
interesting movie using a game as part of its plot. Zathura and Jumanji were other movies where a game is the main part of the movie but this is much more gory.
Kaitlyn Jackson
You know, looking back at my review on The Crazies, and then after seeing this movie, I realize now that I really had no idea just how low horror films these days could go. I could stop right here with this review, because there isn't anything left to say; however if I haven't dampened your curiosity enough with the first sentence, I'll elaborate- but only if you promise to stay far away from this garbage heap (watch it if you must, just please... for the love of all that is holy, do not pay to see this movie. You're smart, find ways around paying your hard earned cash to see this fudge nugget). The Black Waters of Echo's Pond is nothing short of mind blowing. I mean the acting is mind blowing, the plot is mind blowing, and the fact that it's even legal to release a movie this unforgivingly atrocious is mind blowing. You know those cheap $5 horror bundle-pack movies you see at Walmart? You know, the ones filled with movies you've never heard of? We'll I'd be an outright liar to say that any of those are worse than The Black Waters of Echo's Pond. Just take any episode of goosebumps (but throw in some blood and bare human anatomy), mix in a little Jumanji, and top it off with any popular soap opera from the 90's, sprinkle in lots of unanswered questions (not like you'll actually care), and you have The Black Waters of Echo's Pond. It that sounds like fun to you, then by all means go indulge yourself. Just remember not to pay for it.
Zachary Locklear
The Black Waters of Echo's Pond Quotes
There are no approved quotes yet for this movie.
Discussion Forum
Discuss The Black Waters of Echo's Pond on our Movie forum!