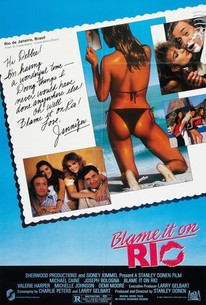 Blame It on Rio
1983, Comedy, 1h 50m
25 Reviews
5,000+ Ratings
What to know
critics consensus
It isn't clear who is most culpable for this creepy comedy's sheer wrongness, but its smarmy laughs and uncomfortable romance will leave audiences feeling guilty long afterward. Read critic reviews
Where to watch
Subscription
Rent/buy
Rate And Review
Movie Info
Two friends who work for the same Brazilian company, Matthew (Michael Caine) and Victor (Joseph Bologna) decide to take a vacation together without their wives, since both men are having marital difficulties. Each brings his teenage daughter along, and there is trouble when Matthew begins an affair with Victor's daughter, Jennifer (Michelle Johnson). As Victor catches wind of the fling, Matthew tries to keep his involvement a secret, leading to plenty of uncomfortable situations.
Audience Reviews for Blame It on Rio
In the 80's Michael Caine was the busiest man in Hollywood. The man never stopped working, and appeared in so many movies, it was impossible not to miss some. A perfect example is this overlooked gem from 1984. Caine plays a middle aged man in a failing marriage that goes on a vacation to Rio with his daughter, his best friend, and his best friends daughter. He goes middle aged crazy and has an affair with his friends daughter, and then almost goes crazy for real when his friend discovers she has slept with someone, and makes it his mission to find out who. Caine is perfect in the role, sympathetic and hilarious in the sly way only an Englishman can be. Joseph Bologna steals every scene he's in as his suffering best friend, and walks away with the best lines in the movie. There's also an appearance by a young Demi Moore, and anyone who wants to confirm for themselves whether or not she had plastic surgery can see here for themselves. She does appear topless, and uses her long hair to cover up what little she has up there. Speaking of topless, the movie also introduces us the UBER-HOT Michelle Johnson, who plays the object of Caine's affections. A natural beauty with the second best breasts of the 80's, following only Phoebe Cates. The girl has plentiful natural curves that are on full display several times in the movie. So you have an Academy Award winning actor at the top of his comedic game, a mesmerzing young leading lady, a sexy, touching, and comedic love affair, all set against the gorgeous backdrops of Rio de Jinerio. A real lost gem from the 80's.

I can't believe I missed this little 80's gem until now! Okay, the story is a little questionable - middle aged man gets with best friend's teenage daughter, and as for the topless running around on the beach - well! I can't imagine many fathers allowing that to happen! But in spite of this, and a young Demi Moore (heinous as usual, thank goodness her role in this is pretty minor), this is still an enjoyable and fun 80's movie. Michelle Johnson is great in this, wonder what ever happened to her, welll, she totally overacts, but it fits in so well with the whole over the top story. Good trashy fun.

Michael Caine plays a reluctant lover to the daughter of his best friend on a vacation in Rio. His acting is pretty good, but the movie gets worse as it ages.

The shaky affair is held together by another outstanding performance by Michael Caine as the conscience-stricken, reluctant lover.
See Details