Blood Freak
(1971)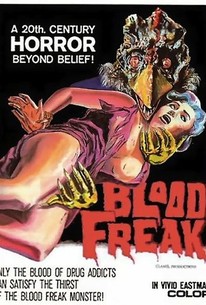 AUDIENCE SCORE
Critic Consensus: No consensus yet.
Movie Info
This mind-numbingly odd product from the Gator State has so many moments of absolute mania it practically exists in a genre of its own: the Sunday-School-Horror-Rock-N-Roll-Biker-Anti-Drug-Message flick. The vague suggestion of a plot is narrated (i.e. interrupted, editorialized and hacked upon) by producer/director/lunatic Brad Grinter, who comes across as a bizarre gene-splicing of a tent preacher and a raving bus-depot derelict who smokes like a chimney and has to stop periodically to cough up what's left of his lungs. When able to complete a sentence, Grinter presents his wacky morality tale of an Elvis-styled biker named Herschel (Steve Hawkes, who shares some of the guilt as co-producer) who gets caught up in a duel between good sister Angel and her devilish sibling Ann. Hersh winds up toking off a little of Ann's devil weed which, when combined with a heaping helping of dad's experimental poultry, transforms him into a rampaging turkey beast. Horrendously fake gore murders ensue when the fowl freak goes for the throats of the local dope pushers, until the aptly-named Angel prays the dumb cluck back to normal. Despite the occasional hint that this entire exercise might be an elaborate, straight-faced put-on, the most blood-curdling aspect of this movie is the notion that its backers were probably sincere.
Critic Reviews for Blood Freak
Audience Reviews for Blood Freak
This is too slow too often to be any sort of cult classic, but some of the shit in here is incomprehensibly bizarre and awesome. Like...the intermittent narration about the dangers of "introducing chemicals to your body" by a man choking on his cigarette. Or having sex with a turkey-headed man. Or the same canned scream repeating itself fifteen times on end. Or the editing, which I easily could have done a better job of. Or...I don't know. I could go on forever. This is just surreal.
Drew Smith
Super Reviewer
What a hilariously bad flick! A Christian young man smokes pot and turns into a killer turkey monster. The tape I saw broke in with a narrator every so often who smoked the whole time, and ended the film with a coughing fit.
Beware, The Turkey Monster! A truly amazing film that is an anti-drug, pro-Christianity, over the top gory, horror/morality film with a man who becomes a bloodthirsty, horrific, rampaging were-turkey. This anti drug fable is narrated by a chainsmoking gentleman who happens to have a coughing fit in the middle of a take. The lead in the film is some guy who used to play Tarzan, but got badly burned and wound up making b-movie, kind of a sad story, but this movie wouldn't be the same without him. What a performance! It seems like it should be a tongue in cheek, homage to exploitation films, but trust me, everyone in this is sincere and serious. Really has to be seen, many, many times, to be believed.
Christopher Brown
Super Reviewer
Blood Freak Quotes
There are no approved quotes yet for this movie.