Blood from the Mummy's Tomb
(1972)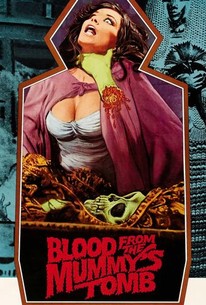 AUDIENCE SCORE
Critic Consensus: No consensus yet.
Blood from the Mummy's Tomb Photos
Movie Info
The swan song for director Seth Holt (who died shortly before filming was completed), this stylish Hammer production transcends its low budget thanks to lush photography, a stylish look, and fine performances from the leads. The plot, adapted from Bram Stoker's novel The Jewel of the Seven Stars, involves an expedition led by Professor Fuchs (Andrew Keir) to find the cursed tomb of an evil Egyptian princess. Upon discovery of her sarcophagus, Fuchs finds her perfectly preserved, still-bleeding severed hand -- which also sports a dazzling ruby ring. Several years later, Fuchs gives the pilfered ring to his voluptuous young daughter Margaret (Valerie Leon), whereupon she slowly begins to take on the malevolent traits of its original wearer, seeking revenge for the defilement of her tomb. Though Christopher Wicking's adaptation of Stoker's obscure novel is a bit uneven, it still provides ample suspense and the production has an overall richness that captures the flavor of Hammer's other mummy projects. Remade eight years later (with less effective results) as The Awakening; traces of the same story can also be found in Universal's 1999 mega-budget version The Mummy.
Critic Reviews for Blood from the Mummy's Tomb
All Critics (3) | Fresh (2) | Rotten (1) | DVD (1)
It's a darkly fun yarn - and another proud example of what can be achieved on a limited budget with talent.
Turns out that the only thing keeping mummy films from reaching their full potential as troubling stories of murder and psychosis were the mummies.
Audience Reviews for Blood from the Mummy's Tomb
½
Alas, just a convoluted Hammer mess, relying too much on the mesmerising ( alleged ) power of Egyptian paraphernilia and the boobs of the main protagonist ( That is half a star up at least !). Might have been much better, but I have never been a fan of possession from the grave films, bring in the ole' shuffling mummy and I am a happy customer, but this is just a shambles. No wonder Peter Cushing dropped out of this one.
Henrik Schunk
Super Reviewer
Another mummy film from Hammer but for some reason they forget to actually include a mummy! Instead we have the delectable Leon in various stages of undress giving longing glances at another version of herself without a hand! A bit of gore here with lots of ripped throats but the whole thing is difficult to follow as it isn't clear what each character is trying to achieve. Hammer deserve credit for trying to do something different with their Mummy films but this doesn't really work and you keep hoping for a bandaged baddie to turn up and throw some fun into the proceedings.
David Sayers
Super Reviewer
½
Certainly not Hammer's finest hour but neither is it the least. But with its utterly nonsensical plot and lack of any actual creepy bandaged mummies its surely a candidate for one of the most tedious. Add to this the cheap sets, flat cinematics and a distinctly rushed feeling, all shows up its second feature status most obviously (maybe it played second fiddle to a bandaged Christopher Lee??) But to be fair, it's still occasionally camp fun - even the worst of Hammer will have that going for it! Namely, Valerie Leon (in an unnecessary wig) flouncing about in a series of revealing black or pink nighties, pouting excessively and rolling her heavily mascaraed eyes, killing off the rest of the (wasted) cast - seemingly armed with nothing more than a few Egyptian artifacts and her very ample, and admittedly quite impressive, cleavage. Her nervous co-stars are a mixed bag of (mostly quality) character actors (supplementing their theatre work no doubt) wasted in thankless rolls: James Burden sweating to death - probably from wearing a worse wig than Leon's; Poor George Coulouris doing what is required - hamming maniacally and hysterically to death; Rosalie Crutchley being typically granite-faced to the end (maybe this was the look she gave to her agent?); And (poor man's Peter Cushing) Andrew Keir being... well, boring, bearded and bed-ridden. Only marvelous James Villiers comes out with any shred of dignity. But that's maybe more to do with his playing it suave and aloof. Incidentally the ironic ending is, surprisingly, rather good and very nearly made the effort to get there bearable. Someone, with their tongue still wedged firmly in their cheek, is definitely teasing us for the disappointing sparsity of anything as thrilling as actual creepy bandaged mummies!
William Sleet
Super Reviewer
Blood from the Mummy's Tomb Quotes
There are no approved quotes yet for this movie.