The Blues Brothers
(1980)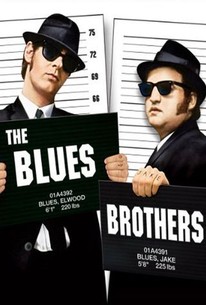 TOMATOMETER
AUDIENCE SCORE
Critic Consensus: Too over the top for its own good, but ultimately rescued by the cast's charm, director John Landis' grace, and several soul-stirring musical numbers.
The Blues Brothers Photos
Movie Info
Expanding on their Saturday Night Live characters, John Belushi and Dan Aykroyd star as Jake and Elwood Blues, two white boys with black soul. Sporting cool shades and look-alike suits, Jake and Elwood are dispatched on a "mission from God" by their former teacher, Sister Mary Stigmata (Kathleen Freeman). Said mission is to raise $5000 to save an orphanage. In the course of their zany adventures, the Blues Brothers run afoul of neo-Nazi Henry Gibson, perform the theme from Rawhide before the most unruly bar crowd in written history, and lay waste to hundreds of cars on the streets and freeways of Chicago. In case you aren't swept up in the infectuous nuttiness of the brothers Blue, you might have fun spotting film's legion of guest stars, including James Brown, Cab Calloway, Aretha Franklin, Ray Charles, John Candy, Carrie Fisher, Steve Lawrence, Twiggy, Paul Reubens (aka Pee-Wee Herman), Frank Oz, and Steven Spielberg. ~ Hal Erickson, Rovi
People Who Like this movie also like
News & Interviews for The Blues Brothers
Critic Reviews for The Blues Brothers
Audience Reviews for The Blues Brothers
"It's 106 miles to Chicago, we got a full tank of gas, half a pack of cigarettes, it's dark and we're wearing sunglasses..." It's always a tricky one when you revisit a film that was a big part of your adolescence and in some ways responsible for laying the groundwork on your love of movies. There's likely to be a tinge of nostalgia or reminiscence, making it difficult to judge it objectively. That said, sometimes the film is just so much fun and so enjoyable that you know why you hold it in such high regard in the first place. Without a shadow of a doubt, The Blues Brothers is (still) that kind of film. When "Joliet" Jake Blues (John Belushi) is released from prison, he and his brother Elwood (Dan Aykroyd) pay a visit to the old Catholic home where they grew up. They soon find out that the orphanage is to be shut down due to lack of funds. As a result, Jake and Elwood go on a mission to re-form their old blues band and raise the money required. Say what you will about the comedic talents of Will Ferrell, Adam Sandler or Mike Myers but they share something in common in terms of making their name on comedy sketch show Saturday Night Live. These names are just three of the shows recent successful comedians but having, personally, been born in the late 70's and grew up throughout the 80's, most of the comedies I was exposed to were filled with the familiar faces that actually had a hand in the origins of this show - Chevy Chase, Bill Murray, Steve Martin, Eddie Murphy and, of course, John Belushi and Dan Aykroyd. In fact, The Blues Brothers is an adaptation of a short sketch that first aired on Saturday Night Live and is one of only two successful film adaptations from the show - the other being Wayne's World. However, despite this films success, it was actually fraught with production problems and a budget that got way out control. Firstly, Dan Aykroyd's script was a massive 324 pages (three times longer than a normal screenplay) which he jokingly bound in the cover of the Yellow Pages before delivering it to John Landis to edit it down. Also, Landis' outlandish car chases and vehicular pile-up's throughout the end of the film sent the budget $10million over it's initial $17.5. This wasn't helped by John Belushi's spiralling drug habit which would cause him to disappear for lengthy periods from the set. These issues aside, though, The Blues Brothers still struck a chord with audiences and critics alike - even the Vatican gave it the thumbs-up for being a good Catholic movie - and it has since went on to become a cult classic. Over 30 years later, it's easy to see why... The story doesn't really amount to very much but the titular characters are hard to resist as they ooze a laid-back cool, dressed in their iconic black suits and dark Ray-Bans - a good ten years before Tarantino's similarly attired Reservoir Dogs. Jake and Elwood manage to get themselves in all sorts of scrapes and upset a whole horde of different people; a machine gun, bazooka wielding disgruntled ex-girlfriend (Carrie Fisher), the Illinois Nazi Party, country band The Good Ol' Boys and, not to mention, the sheer tally of cops, all in hot pursuit. It's riotously over the top and when the film reaches it's denouement it has already crossed the ridiculous border but Landis and Aykroyd know this. They simply don't care. And that's what makes the film so enjoyable. There's an unashamedly free-spirited nature to the proceedings which is highly infectious but nothing entertains more than the magnificent musical numbers from a choice selection of Soul and R&B talents. Among the many toe-tapping highlights are Aretha Franklin's "Think", Cab Calloway's "Minnie the Moocher", John Lee Hooker's "Boom Boom" and the great Ray Charles with "Shake a Tail Feather". The Blues Brothers has stood the test of time and truly is one of a kind. It's provides action, laughs and song and dance numbers that haven't aged a bit. It's admittedly raucous, loud and chaotic but as far as I'm concerned, anything goes when you're "on a mission from God". Mark Walker
Mark Walker
Super Reviewer
½
Over time The Blues Brothers has grown in stature to become a cult classic. Separated from the storied Hollywood backstory it's easy to see why. The chronicle is host to a plethora of cameos including R&B legends Cab Calloway, Aretha Franklin, Ray Charles, and James Brown. The love the filmmakers have for this music is obvious. The production numbers are buoyant and sensational featuring a cast of hundreds dancing with a joie de vivre rarely captured on screen. Aretha Franklin's performs "Think" as a warning to her husband in a diner and the moment is miraculous. Granted the plot of this overlong 135 minute extravaganza is simplistic in the extreme. The story is essentially an an ever escalating car chase that includes the Chicago police force, Illinois state troopers, a parade of Nazi's, an outraged country & western band, and Jake's jilted girlfriend (Carrie Fisher). But heck if the whole thing isn't enjoyable fun. Laying waste to the greater Chicago area never felt so joyous....or soulful. fastfilmreviews.com
Mark Hobin
Super Reviewer
½
The Blues Brothers is an iconic film and I had wanted to see it for a very long time, but never got around to it, and I am glad I finally did. This is an excellent comedy that is brilliantly acted and directed and it has many memorable moments that standout. The pairing of Dan Aykroyd and John Belushi is terrific, and they have great chemistry. The film blends well thought out comedy with an entertaining musical numbers that are far better than any other musical film that I have seen. I must confess I never was the biggest fan of musicals, I found them to be average at best, entertaining depending on what was written in the script, but never anything memorable either. With the Blues Brothers, it's quite different, there are enough moments of dialogue here to compliment the musical numbers, and it makes for a truly engaging film that is entertaining from start to finish. I really enjoyed the film, it was a finely executed blend of comedy and music and it has to rank among one of the finest genre films ever made. The script is solid, and thoroughly entertaining, and the viewer is sucked into its humorous and memorable plot that is elevated by Aykroyd's and Belushi screen chemistry. Something simple goes a long way, and in the case of this film, it proves exactly right. The Blues Brothers in terms of story is nothing elaborate, but where it stands out, are the performances by its leads. The chemistry between the two lead actors is what elevates the simple plot to greatness and it's a fun; entertaining picture that in the long run is a memorable piece of comedy. The Blues Brothers is a must see film, a terrific performance by Dan Aykroyd and John Belushi , of which Belushi delivers a highly memorable performance, one that defined his sadly too short career.
The Blues Brothers Quotes
| | |
| --- | --- |
| Elwood: | Illinois Nazis |
| Joliet Jake: | I hate Illinois Nazis! |
| | |
| --- | --- |
| Elwood: | It wasn't lies, it was just billshit |
| Elwood: | It wasn't lies, it was just billshit. |
| Elwood: | Wasn't lies, it was just... bullshit. |
| | |
| --- | --- |
| Joliet Jake: | We need $5000 bucks fast! |
| Maury Sline: | 5 grand? Who do you think you are, the Beatles? |
| | |
| --- | --- |
| Elwood: | There's 106 miles to Chicago, we've got a full tank of gas, half a pack of cigarettes, it's dark out, and we're wearing sunglasses. |
| Joliet Jake: | Hit it! |