Bomb It
(2008)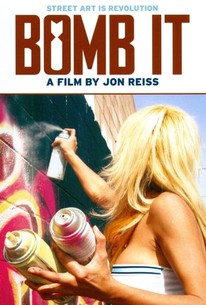 Movie Info
Filmmaker Jonathan Reiss offers a multilingual look at the evolution of graffiti in a documentary that begins by examining ancient rock paintings and traces the trend straight through to the works of Picasso and 1970s-era New York City hip-hop culture. Shot on five continents using guerilla filmmaking techniques, Bomb It aims to give viewers a newfound appreciation of graffiti culture by exploring the origins of street art and interviewing the artists about their tactics and motivations.
Critic Reviews for Bomb It
Audience Reviews for Bomb It
Documentary about graffiti artists and their motivation, why they do what they do. Rather than just show New York, this one goes across the world, covering different pieces and different artists in Toykyo, Sao Paulo, Cape Town, Hamburg, London and shows how the different cultures and different cities influence their work.. Fascinating, entertaining and reasonably even handed view of the origins, development and politics of graffiti, and some beautiful art too, though I guess that depends on your personal view - is it artistic expression or unfettered vandallism? Included are some telling shots of giant billboards to make you ponder over the acceptability of mass corporate advertising in cities, when throwing up a colourful tag can get you arrested.
Bomb It Quotes
There are no approved quotes yet for this movie.