Bossa Nova
(2000)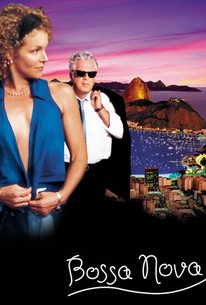 Movie Info
BOSSA NOVA is a romantic comedy about several couples that break up or hook up in present day Rio de Janeiro. It is in this idyllic but "useless landscape" for lonely hearts that nine characters cross each other's paths and destinies, unleashing new passions. The epicenter of all this activity is an attractive English teacher, Mary Ann Simpson a former flight attendant and a widow who's been living in Rio for two years, since the death of her husband, a Brazilian pilot. Pedro Paulo is a lawyer who's also suddenly aware of the uselessness of the city's beauty when he witnesses the end of his seven-year marriage to Tania, who leaves him for a Chineses Tai-Chi-Chuan teacher. Pedro Paulo's father is a sophisticated tailor, the Argentine Juan, who has an atelier in the same building where Mary Anne's English School in located. A sliding elevator door puts a stop to both Pedro Paulo and Mary Ann's loneliness. They get close, unbeknownst to the fact that their lives will be even more intertwined with the interference of many other characters and incidents. Among Mary Ann's private students are the dreamer Nadice, who believes she's found the love of her life over the Internet. Mary Ann helps her student in keeping a virtual romance with Gary, a Soho artist with hair down to his waist, who fell for Nadine when she told him she'd won a Girl from Ipanema beauty pageant five years before. Her group of students also includes Acacio, Rio's biggest soccer scorer, who's been sold to an English team. He needs to improve his vocabulary so as to make himself understood, especially on the field. Gordo is Acacio's loyal manager and childhood friend, in charge of all the player's interests. Additional characters include Sharon, a snobbish, yet competent law intern, whose heart beats for Roberto, Pedro Paulo's brother. When Nadine decides to travel to New York to look Gary up, the travel agent who sells her airplane ticket is Tania, Pedro Paulo's former wife. Eventually, all of their lives become unexpectedly intertwined. Pedro Paulo meets Acacio at Mary Ann's place. The soccer player need a lawyer and pays a visit to his office, where he meets Sharon. Tania, claiming incompatibility with her Chinese husband's cultural habits, decides to go back to her ex-husband. And Nadine is surprised by an e-mail from Gary letting her know he's on his way to Rio. On the day of his arrival, Pedro Paulo is also at the airport, waiting for the arrival of a client, bald and formal Trevor. A hospital becomes the setting of an intricate web of misunderstandings, with an unpredictable ending. Tania wants to win back the love of Pedro Paulo's, who in turn loves Mary Ann, but thinks she loves Trevor. Nadine finally meets her virtual love. Robert loves Sharon, who loves Acacio, who had a crush on Mary Ann, who rediscovers love with Pedro Paulo. In this tumultuous love merry-go-round, with funny cultural and linguistic mishaps, love is the big winner, as well as Rio de Janeiro's stunning landscapes, to the tune of Bossa Nova.
People Who Like this movie also like
Critic Reviews for Bossa Nova
Audience Reviews for Bossa Nova
It's hardly like me to give such good ratings to romantic films, but for anyone who loves Rio and Brazil this must be the quintessential love film. Funny, fast, romantic, wonderful shots of Rio.
Bossa Nova Quotes
There are no approved quotes yet for this movie.