The Boy in the Striped Pajamas (The Boy in the Striped Pyjamas)
(2008)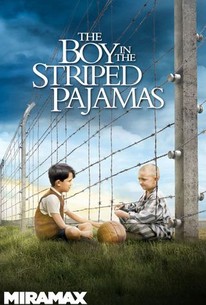 TOMATOMETER
AUDIENCE SCORE
Critic Consensus: A touching and haunting family film that deals with the Holocaust in an arresting and unusual manner, and packs a brutal final punch of a twist.
The Boy in the Striped Pajamas (The Boy in the Striped Pyjamas) Photos
Movie Info
Vera Farmiga, David Thewlis, and Asa Butterfield star in Little Voice writer/director Mark Herman's adaptation of John Boyne's novel concerning the forbidden friendship that between an eight-year-old German boy and a Jewish concentration camp prisoner in World War II-era Germany. The innocent son of a high-ranking Nazi commandant, Bruno has been largely shielded from the harsh realities of the war. When Bruno discovers that his father has been promoted and that their family will be moving from Berlin into the countryside, he doesn't take the news well. Increasingly bored in his sprawling yet dreary country abode and forbidden by his mother from exploring the backyard, young Bruno searches for something to do while his older sister plays with dolls and vies for the attention of handsome Lieutenant Kotler (Rupert Friend). One day, bored and gazing out his bedroom window, Bruno spies what first appears to be a nearby farm; his parents refuse to discuss it, and all of the inhabitants there are curiously clad in striped pajamas. But while Bruno's mother naïvely believes the "farm" to be an internment camp, her husband has sworn under oath never to reveal that it is in fact an extermination camp specifically designed to help the Nazis achieve their horrific "Final Solution." Eventually defying his mother's rules and venturing out beyond the backyard, Bruno arrives at a barbed wire fence to find a young boy just his age emptying rubble from a wheel barrel. Like Pavel, the kitchen worker who cooks all of Bruno's meals, the young boy is wearing striped pajamas. His name is Shmuel (Jack Scanlon), and before long the two young boys become fast friends. But the closer these two boys grow, the more Bruno becomes awakened to the horrors unfolding all around them. His mother is catching on quickly as well, a fact that causes great tension in her marriage to Bruno's father. Later, after Bruno swipes a piece of cake for Shmuel, Lt. Kotler accuses the Jewish boy of stealing and delivers a swift punishment. When Bruno's father announces that the young boy and his mother will be going to live with their aunt in Heidelberg, Bruno grabs a shovel and makes his way to the camp, setting into motion a tragic and devastating sequence of events. ~ Jason Buchanan, Rovi
People Who Like this movie also like
News & Interviews for The Boy in the Striped Pajamas (The Boy in the Striped Pyjamas)
Critic Reviews for The Boy in the Striped Pajamas (The Boy in the Striped Pyjamas)
Audience Reviews for The Boy in the Striped Pajamas (The Boy in the Striped Pyjamas)
½
Moving film about those in concentration camps in WWII. Good performances.
Christian C
Super Reviewer
An oversimplification of the Holocaust, yes, as a very young German boy during WWll accidentally discovers exactly what his camp commandant dad does for a living, but to be forgiven its chosen naive viewpoint in respect to its chosen naive audience: a perfect film for schools.
Kevin M. Williams
Super Reviewer
An upper class German boy befriends a boy in a concentration camp. Told from the perspective of a child, the foolishness of the adults in this story comes in stark relief, which is one of the film's strengths, especially considering all the films made on this subject. Good performances by Vera Farmiga and David Thewlis hammer home the film's point. I did think that the conclusion was contrived and needed too much help from the protagonists' naivete in order for it to work. Overall, this is a strong, unique film about the Holocaust.
Jim Hunter
Super Reviewer
The Boy in the Striped Pajamas (The Boy in the Striped Pyjamas) Quotes
| | |
| --- | --- |
| Bruno: | We're not supposed to be friends, you and me. We're meant to be enemies. Did you know that? |
| | |
| --- | --- |
| Bruno: | We're not supposed to be friends, you and me. We're meant to be enemies. Did you know that? |
| | |
| --- | --- |
| Elsa Bruno's Mother: | It won't feel like home until we make it feel like home. |
| | |
| --- | --- |
| Pavel: | I practiced as a doctor. |
| Bruno: | You must not have been very good then, if you had to practice. |