Brave New Girl
(2004)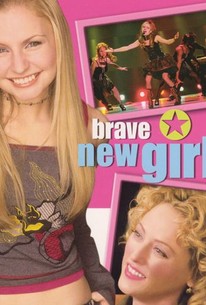 AUDIENCE SCORE
Critic Consensus: No consensus yet.
Movie Info
Against all odds, a young woman realizes her dreams to study vocal music in this inspirational melodrama written by pop-star Britney Spears and her mother. Based on the Spears' semiautobiographical novel A Mother's Gift, Brave New Girl traces the journey of Holly (Lindsey Haun), a plucky, lower middle-class Texas teen being raised by her equally plucky single mom, Wanda (Virginia Madsen). Holly's voice makes her shine in her school choir, but she's unsure she's got what it takes to leave her boyfriend and family behind -- until she gets accepted to one of the most prestigious music schools in the country. With her boyfriend's blessing and Wanda's small nest egg of savings, Holly and her mom trek north in their old convertible, depositing her on the steps of the academy. But music school proves to be even more challenging than Holly thought as she comes up against snobby attitudes and competitive classmates. Meanwhile, unbeknownst to Holly, Wanda has a chance encounter with a man who may be Mr. Right -- and she decides to stay in the college town a little while longer. Brave New Girl premiered on the ABC Family network in 2004.
Critic Reviews for Brave New Girl
There are no critic reviews yet for Brave New Girl. Keep checking Rotten Tomatoes for updates!
Audience Reviews for Brave New Girl
A movie based on the book written by Britney Spears and her mum (although I suspect her mum wrote it and Brit just put her name on it!). I gave this movie two stars - one for Virgina Madsen who shouldn't have to sink so low, and one for the lead actress who plays Holly here (Lindsey Haun). Wouldn't say she is any great acting talent, but she is cute and likeable for the kind of fluff this is. The whole movie is pretty ridiculous. I don't mind the odd teen movie, and even I was having to suspend belief here several times. SPOILERS....... Like how the hell Holly got into that school based on that horrible video her mum sent in, also, no one ever questioned could she sing classically until she was there, or even if she spoke foreign languages - the amount of time it took Holly to "learn" all that was ridiculously short. Then the whole thing where her mum just happens to meet an attractive and decent man on the very day she is down and out on her luck (yeah, that happens all the time....). Don't even get me started on the mum moving into Holly's dorm room (see why I think this is a little fantasy piece Britney's mum wrote?!). And then that horrible little number Holly does at the end of the movie. Probably just as well they cut it there, as I'm sure the next move would have been her being booted out of school! Whole sections of the story just get forgotten about also for convenience of plot. For example, Holly's Texas boyfriend just disappears after a phone call where there is a misunderstanding, and we never find out exactly how Holly's mum avoided being homeless (or where she is staying when she is not in Holly's dorm). Surely not tarting it up with the guy she met only a day or so ago?! That wouldn't be very PG13! The whole story is too cute, too wholesome (although Holly does get an alcohol lecture from her mum) and just a little too silly honestly.
Nicki Marie
Super Reviewer
I love this movie, but I also love Haun.
Leigh Ryan
Super Reviewer
Brave New Girl Quotes
There are no approved quotes yet for this movie.