Brève Traversée (Brief Crossing)
(2001)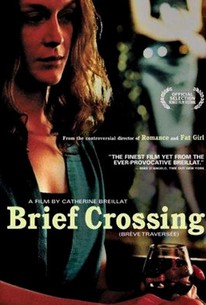 AUDIENCE SCORE
Critic Consensus: No consensus yet.
Brève Traversée (Brief Crossing) Photos
Movie Info
Thomas (Gilles Guillain), a good-looking, 16-year-old French boy, races to catch a ferry from La Havre to Portsmouth. The clerk allows him on, despite the fact that his papers are in disarray. In the ship's cafeteria he meets Alice (Sarah Pratt), a much older British woman. Speaking English, she invites him to sit with her in the crowded dining room, and asks his name. He tells her, then eats silently. She seems to study him intently. "Mine's Alice, if you're interested," she says after a few uncomfortable moments. He's embarrassed, but still says little. She stares at him, and eventually, he returns her stare. Then, he lights a cigarette. "I should quit," he says. As he struggles with his English, explaining why he smokes, she tells him she speaks French, and the conversation becomes a bit easier. A sexual attraction is clearly building between them as he asks her to the bar for a drink. Eventually, Thomas learns more about Alice. She's recently separated from her husband, she explains. She seems depressed. "Life is interminable and boring, but it goes by fast," she warns him. He suggests they take advantage of their night on the ship to engage in a little bit of romance. She scoffs at the young people on the dance floor and he distances himself from them. They watch a magician perform his cheesy act. She complains at length about the way men treat women, but maybe Thomas is different? Brief Crossing, written and directed by Catherine Breillat (Romance), was produced as part of a series of ten French films under the heading, "Masculin/Feminin." The film was shown at Lincoln Center in New York as part of their 2003 Film Comment Selects series. ~ Josh Ralske, Rovi
Critic Reviews for Brève Traversée (Brief Crossing)
All Critics (2) | Fresh (2) | Rotten (0)
Brief Crossing is brief indeed, but it packs several gut punches along the way. Make this a date movie, and you'll have plenty to talk about when it's over.
Audience Reviews for Brève Traversée (Brief Crossing)
½
[font=Century Gothic][color=red]As a subject for a film, sex is surprisingly not going to automatically make for interesting subject matter.(James Toback generally has proven this and so far hasn't directed a movie I've liked. In case you're wondering, Fingers(1978) is one of the most overrated movies of all time.) There can be plenty of sex in a film, but it won't succeed if it overwhelms everything else in the movie. French director Catherine Breillat's films have mostly been about sex and they've certainly been a mixed bag so far.(I've only seen four of her films, which only span the past few years.) Romance was boring and reminded me a little of Belle du Jour. Fat Girl was just one prolonged shaggy dog joke. But then she moved onto filmmaking, specifically her own, in Sex Is Comedy. And that was a good movie, letting us into her psyche. And yesterday, I saw Brief Crossing which I liked and was about an Englishwoman in her thirties giving a first class education in sex and gender studies to a French teenager. [/color][/font]
Brève Traversée (Brief Crossing) Quotes
There are no approved quotes yet for this movie.