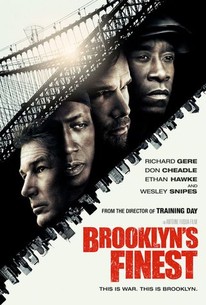 Brooklyn's Finest
2009, Crime/Drama, 2h 5m
153 Reviews
100,000+ Ratings
What to know
critics consensus
It's appropriately gritty, and soaked in the kind of palpable tension Antoine Fuqua delivers so well, but Brooklyn's Finest suffers from the comparisons its cliched script provokes. Read critic reviews
Where to watch
Rent/buy
Rent/buy
Rent/buy
Rate And Review
Movie Info
A massive drug operation changes the lives of three conflicted New York cops. Burned-out vet Eddie Dugan (Richard Gere) is close to retirement; narcotics cop Sal Procida (Ethan Hawke) faces the difficult task of caring for his large family on his ordinary salary; undercover officer Clarence "Tango" Butler (Don Cheadle) finds his loyalties beginning to shift toward a powerful drug dealer. Over seven chaotic days, the three men are drawn toward a fateful crime and destiny.
News & Interviews for Brooklyn's Finest
Audience Reviews for Brooklyn's Finest
Fuqua has fallen from grace since Training Day but sadly this isn't the return to form I was hoping for. the film is a mess of ideas and tries heavily to act like a Crash style of noir but falls flat in the end. the cast of heavy hitters are all well cast but they cannot do anything with such a weak script. Fuqua has the mood set but the actions of some of the characters border unbelievable which makes me wonder if he even took much notice of the script in development. what could of been a possible return to the training day world is flat and downright boring at times. the ending is a massive slap in the face and lacks any emotion for the lead characters. Wesley Snipes is quite good but underused in a role that needed much more depth so Cheadle's swap of loyalty seemed more real.

More like Brooklyn's Worst in terms of scripting, overdone drama, and tension reaching way too high. It is well-acted I admit, as well as quite dark, but why does it need to be overly violent? There's no need for cliched characters in search for a bloodbath.

I don't know why this was so universally bashed, it's really a great move and in many ways beats out its contemporaries like Crash. The main reason for that is fact that it doesn't have a single overbearing message that it's trying to convey for the entire movie, each character has their own message. I think Antoine Fuqua usually has a great style that he brings to his movies and this is a prime example of it. This often times has a visual style that mirrors each central character's tone, which I thought was pretty cool. Also, just from a visual standpoint Brookyln's Finest is extremely impressive. It reminds me a lot of The French Connection in that it has a realistic element that you can't quite put your finger on, but it's undeniably there. The story lines did a perfect job of intersecting; it wasn't obtrusive or cheesy, but gave you a feeling that this was just a massive city. The depiction of the police and criminals was really interesting; I liked that neither side was labeled as outright heroes or villains. (on a side note, I think it's hilarious that Richard Gere is rescuing hookers again). The core stories depend on individual decisions and morals rather that simple foreshadowing or having a plot that needs to go a certain direction. When the final climax finally hits, it's truly beautiful how everything works out. This is also strengthened by its performances; Richard Gere, Don Cheadle and Ethan Hawke all turn in extremely good performances. All of their characters are conveyed in a way that makes them feel like real people. The acting isn't overblown or drawn out for oscar season. Chances are, if you're willing to give this a chance, it'll probably be a really nice surprise.

The film takes place within the notoriously rough Brownsville section of Brooklyn and especially within the Van Dyke housing projects in the NYPD's (fictional) 65th precinct. The action revolves around three policemen whose relationships to their jobs are drastically different.Crude and violent(Fuqua's style) this is a good police movie.
See Details