Carver
(2008)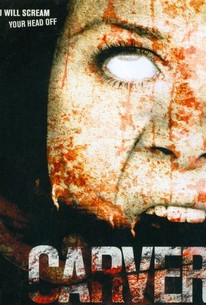 AUDIENCE SCORE
Critic Consensus: No consensus yet.
Movie Info
The 8th Plague director Franklin Guerrero, Jr. draws on a terrifying tale of true life horror to craft this blood-soaked yarn concerning a group of vacationing twenty-somethings stalked by a backwoods filmmaker who lives to capture death on celluloid. There was a time when the remote mountain town of Halcyon Ridge was a camper's paradise, but these days the scenic campsite sits nestled in the wilderness under an eerie blanket of sunny silence. It seems that the Carver family has been hard at work slaughtering unsuspecting vacationers and immortalizing their final moments on camera. One day, a small group of campers show up in Halcyon Ridge show up looking for a place to pitch a tent. Little do the clueless nature lovers realize that they're all about to become bona fide screen stars. Unfortunately for them, their screen debuts will also serve as their gore-drenched swan songs.
Critic Reviews for Carver
All Critics (1) | Fresh (1) | Rotten (0)
this is no ordinary torture porn, no ordinary slasher, but a far more self-conscious, postmodern take on horror and its peculiar viewing pleasures.
Audience Reviews for Carver
Ultra low budget film with horrible actors, I don't know why I watched this piece of crap. The film tried to give it's viewers a realistic view point on the event but failed as it's so not realistic at all! Lots of gore alright but it's nothing new as most horror films do have gore, the score is horrifying, you'd just mute it; I don't know whether I hate the plot more or the score to be honest
Sylvester Kuo
Super Reviewer
½
From the look of the film,you can tell "Carver" is a low budget flick.Some gore-hounds might enjoy this big time,but basically is another torture porn film that has no good plot & nothing special or original to offer.Production value not so good,but editing,score & specially gore effects comes through for the film.Reason i give this one 2.5/5 stars is because it gets brutal in the last 15-20 mins of the film.Very bloody,violent & it will make some people cringe at times.I doubt if i will be in the mood to watch this film again & don't see myself recommending this to others.
½
Turkey in the straw, yee haw! Brutal, well done low budget horror flick with some parts that seem like they belong in a Ryan Nicholson film. Decent time waster.
Christopher Brown
Super Reviewer
Carver Quotes
There are no approved quotes yet for this movie.