Castle Freak
(1995)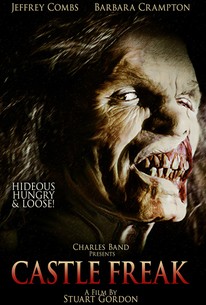 Movie Info
An American family discovers the horrific mystery that lies within a spooky Italian castle in this low-budget horror film from cult director Stuart Gordon, best known for such works as Re-Animator and From Beyond. Castle Freak reunites Gordon with Re-Animator star Jeffrey Combs, who portrays John Reilly, an American who inherits an Italian castle when a distant relative passes away. John, a recovering alcoholic, travels to Italy with his estranged wife Susan and blind daughter Rebecca. On the advice of the estate's executor, the three plan to stay at the castle until they can liquidate the estate. Little do they know, however, that a horrible, freakish monster has been kept locked away in the basement. Soon, the beast has escaped and emerges hungry for blood, leading to a series of unexplained deaths and disappearances. When the police name John their prime suspect, he must find the true murderer before he or his family becomes the next victim. Along the way, he must not only battle the creature itself but overcome demons from his own guilty past. ~ Judd Blaise, Rovi
Critic Reviews for Castle Freak
Audience Reviews for Castle Freak
½
So I am picking these movies at random and I have already gotten 3 Stuart Gordon movies, each one was the first time seeing it. This guy is a Horror genius, he really knows his stuff. He is really on spot with putting Jeffery Combs in each film too, alongside Barbara Crampton. This guy is running up the list of my favorite horror directors. Not only is this the third Stuart Gordon movie that i have watched like in the last month, this is the third H.P. Lovecraft one too (This is Lovecraftian right?) Jeffery Combs and Barbara Crampton are married and they have/had two kids one of them is dead and one of them is blind and its all Mr. Combs' fault. With the exception of the dead one, they go to this castle that he inherited and its creeeeppppyyy. Remember that episode of the Simpson's where Bart has a brother hidden away in the attic and it eats fish heads? Well this is just like that but instead of fish heads its boobs... You heard it. Boobs... So if you really like HP Lovecraft you will really enjoy this one, on the other hand if you don't this really wouldn't be for you. Its not one of Stuart Gordon's best in fact it might be one of his most mediocre attempts at film making but it is nonetheless pretty damn gory. 5.5 out of 10! You should confer with your court appointed law expert! Sid
Brandon Siddall
Super Reviewer
½
A family moves into an old Italian castle, where something freakish is kept as a secret down in the dungeon. There's gore indeed when the Freak gets loose from its chains. Fairly well-made Full Moon Picture; a classic. For a treat, try watching this movie with the color on your TV turned down, it's like a classic 1950's monster movie!
Lafe Fredbjornson
Super Reviewer
Castle Freak Quotes
There are no approved quotes yet for this movie.
Discussion Forum
Discuss Castle Freak on our Movie forum!