Catching Hell
(2011)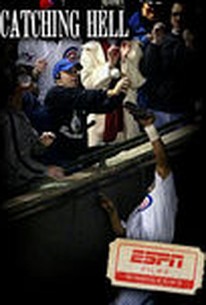 AUDIENCE SCORE
Critic Consensus: No consensus yet.
Movie Info
With five outs remaining in Game 6 of the 2003 National League Championship Series, Florida Marlins second baseman Luis Castillo hit a foul ball straight for Chicago Cubs left fielder Moises Alou. But the crucial catch was not to be. Instead, a flurry of hands reached out from the stands, deflecting the ball into the crowd, and instantly one man's name, like Bill Buckner's before it, became synonymous with blowing it in a critical, high-stakes moment: Steve Bartman. In fact, dozens of errors contributed to the Cubs' loss in 2003, and the Red Sox still had one more whole game to play in the 1986 World Series after Buckner's legendary gaffe-yet these are moments that will live forever in the annals of sports infamy. Why? With Catching Hell, Academy Award (R)-winning documentarian and Tribeca alum Alex Gibney probes this topic of sports curses and scapegoats with his signature incisiveness, tracing the roots of our compulsion to focus misplaced blame for an entire team's legacy on small moments of tangible ineptitude. In the process, Gibney's comprehensive interrogation of this under-examined sports phenomenon lends insight and a bit of heroic tragedy to Bartman's own curse of undeserved notoriety. -- (C) Tribeca
Critic Reviews for Catching Hell
Audience Reviews for Catching Hell
½
"Catching Hell" is an exhaustive and even-handed documentary, centered around the infamous moment in Game 6 of the 2003 National League Championship Series between the Florida Marlins and Chicago Cubs wherein Moises Alou failed to make the play on a foul ball in the eighth inning.(In fact, the footage here is analyzed more thoroughly than the Zapruder footage ever was.) As Alou testifies later and the documentary proves, he would have made the catch without the fans going after the ball. While Steve Bartman was not the only one trying to catch it, he is the only one remembered. In their defense, the documentary concludes that it was only natural behavior(For the prosecution, Scott Turow disagrees, however) on the fans' part, as some of them are also interviewed. And maybe the Cubs would have gone on to win the game if Alou had caught the ball, but we'll never know for sure. What I did notice is that the Cubs pitcher Mark Prior had thrown 112 pitches up to that point, so maybe he was tiring. But the one thing the documentary fails to mention anything about is the Chicago White Sox(well, except for Steve Lyons' personal moment of infamy which is still really funny, by the way). Especially the part about them winning the World Series in 2005, breaking their own 88 year streak of futility which must have been like pouring lemon juice on the still festering wound of the Chicago Cubs fans. In a more general sense, "Catching Hell" also examines the history of the word scapegoat in its mission to show how some people are unfairly blamed. As long as we're on the subject of etymology, it should be noted that a possible origin for the word fan comes from fanatic, for which we see plenty of examples here.
First off, I have to say that this is the best of the ESPN films presents that I have seen. It's directed by one of the better documentary directors out there, Alex Gibney. This guy could take just about any topic and make it entertaining. He made Enron and he did a fabulous documentary about Hunter S. Thompson called Gonzo. So given this guys skill and the subject he was going to present; there was nothing holding this film back. I remember the Bartman play well. I was 9 years old and I was watching on tv. I'm not a Cubs fan, but an Indians fan, so I know how it feels to not win too. Being a Cleveland fan, you better get used to it.  The Cubs have a rich history of losing. Fans say it's the curse of the billy goat. Their not the only fans to use a curse for a reason why their team can't win. The Sox had the Curse of the Bambino which was lifted after they finally won the World Series. Here in Cleveland we have a curse. It doesn't just cover one team; it covers them all. We don't really know what to call it, so we just put names to them. There's The Fumble, The Drive, The Last inning Melt Down, Blowing a 3-1 series lead against the Red Sox and most recently The Decision. So like my experiences with the curse, there is the same presence in Chicago with their beloved Cubs. Many fans thought this was going to come to an end in 2003. They had a great team. They had Sosa, Alou was on fire. They had the best shortstop going in Alex Gonzalez. They had the best pitching staff in Major League Baseball. This was their year. The year the curse of the billy goat could finally be lifted and Cub fans could finally celebrate. Game 6 of the NLCS looked promising. Going into the 8th inning, the Cubs led 3-0. After the first man of the inning flew out to Moises Alou in Left Field, there were only 5 outs until the Cubs were going to the series. The next man up, Luis Castillo, hit a pop fly foul down the Left Field line. Alou gave chase and leaped at the wall in an attempt to make a spectacular catch. Fans in a haste to catch the foul ball, which is precious to every baseball fan made a leap at the ball. Among those fans was Steve Bartman and he deflected the ball, making it impossible for Alou to make the catch. Alou frustrated threw his fist and yelled at the fans. After the Marlins went on to score 8 that inning, the fans of Chicago turned on Bartman. He just sat there, eyes forward, headphones on. Beer is thrown, the stadium chants "Ass Hole, Ass Hole." People yell that they are going to blow his brains out. Security is forced to escort him out because the situation is growing dangerous. The game is no longer going on in the fans minds. This was inevitable, so they turn their attention to Bartman. The film does a great job at evoking sympathy for Bartman. I have always felt bad for the guy. No one wouldn't have reached for that ball and if they say they wouldn't they are lying. That moment changed his life, in that he has to hide from everyone now, lest some nut job see him on the street and maybe kill him. Fan is short for fanatic. That's exactly what a true fan is. We bleed for our teams. People who aren't sports fans look at us as crazy, and we are. This is a perfect example of this. It's not so much that these fans hate Bartman, but that anger in realizing we still aren't going to win caused so much tension in that ballpark that it just came spilling over the top. To the common person not into sports; this story seems ludicrous. To fans who know the torment, it seems bad, but also we can understand it. If I was a Cubs fan at that game, I probably would have been chanting along with everyone because the emotions are high. When Lebron came back to Cleveland this last year, I was one of the guys yelling "Akron Hates You" and "Fuck You, Fuck You." Emotions are part of sports, but here it was just taken to an extreme level. People waited outside his house. The guy got death threats. When it gets to that point it's gone too far. I know your fanatics, but you got to let it go. I'm sure there are still Cubs fans who haven't let it go. I know I'll never let Lebron leaving go. This documentary is so well done in evoking those emotions and really making us feel for Bartman. Also they talk about Buckner, who is famous for an error in the World Series. Those two were scapegoats for their cities. You feel bad for both and hope that in time the Cubs can win a World Series and maybe the fans will forgive Bartman; even though he did nothing wrong and welcome him back like the Red Sox fans did in Boston after they won the series. But most of all Bartman would have to forgive them. 
Melvin White
Super Reviewer
Steve Bartman's story is a classic example of the dangers of having a mob mentality. 'Catching Hell' does a great job of generating sympathy for Bartman and former Red Sox first baseman, Bill Buckner. The film is interesting and entertaining, but could've been much better had it contained an interview with Bartman himself. Unfortunately for ESPN films, Bartman is a classic recluse and wouldn't budge on his 'not going to talk about it' stance. Despite this hole, 'Catching Hell' serves as a fantastic sports documentary, and is a must watch for baseball fans. Grade: B
Sunny Dogra
Super Reviewer
Catching Hell Quotes
There are no approved quotes yet for this movie.
Discussion Forum
Discuss Catching Hell on our Movie forum!