Catwoman
(2004)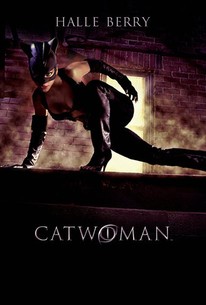 Movie Info
Patience Philips is a woman who can't seem to stop apologizing for her own existence. She works as a graphic designer for Hedare Beauty, a mammoth cosmetics company on the verge of releasing a revolutionary anti-aging product. When Patience inadvertently happens upon a dark secret her employer is hiding, she finds herself in the middle of a corporate conspiracy. What happens next changes Patience forever. In a mystical twist of fate, she is transformed into a woman with the strength, speed, agility and ultra-keen senses of a cat. With her newfound prowess and feline intuition, Patience becomes Catwoman, a sleek and stealthy creature balancing on the thin line between good and bad. Like any wildcat, she's dangerous, elusive and untamed. Her adventures are complicated by a burgeoning relationship with Tom Lone, a cop who has fallen for Patience but cannot shake his fascination with the mysterious Catwoman, who appears to be responsible for a string of crime sprees plaguing the city.
News & Interviews for Catwoman
Critic Reviews for Catwoman
Audience Reviews for Catwoman
A spin off about Catwoman that would follow on from the heavily gothic Burton Batman sequel, or so we all thought. Everything seemed good to go, Pfeiffer was set to return and Burton was gonna direct, but like always in Hollywood things changed and a whole new group of people were brought in. The plot? the plot is actually about makeup! indestructible makeup, yep that's right. In this film the villain is creating a makeup that inadvertently makes your skin as solid as rock, hence you are unable to feel pain or suffer injury. Drawback being if you stop using it it will scar your face up badly. So its up to errr...someone called Patience Phillips to save the day. Oh the problems, so many! First up if you're expecting to see Gotham City forget it, this isn't Gotham. I'm not sure where it is actually but I don't believe its Gotham, its never mentioned as far as I'm aware. As we already know the character isn't Selina Kyle either, why? I dunno, so they take the opportunity to make Catwoman black with Halle Berry. Now I don't want delve too far into this issue but for me Catwoman is white, simple as that, yes I know Eartha Kitt has played her but still, essentially the character is white so why change that lore so dramatically? Moving on, the outfit, oh Jesus! what were they thinking. There really is nothing to say here other than its dreadful, purely dreadful, she doesn't look like Catwoman...a master thief/anti hero, she looks more like Catwoman...the sleazy hooker. The look merely consists of ripped (around the her ass strategically) black leather pants and a black leather bra...oh and the most stupid looking mask I've seen for some time, looks like its gonna fall off at any moment. It doesn't help that she has some hideous makeup work on her too, really nasty looking. The film is chock full of terrible CGI, really bad looking stuff as Catwoman scurries up and down walls and acrobatically flips all over the show as if she were an insect, Spider-Woman. This leads me back to the plot idea here. The character is killed and changed into a 'cat woman' by some mystical feline that just happened to be there at the time. Why? not sure, the cat is owned by some good witch-like character, a spiritualist kinda person, apparently the cat chose Berry's character, the cat is a messenger of some Goddess or something. Still doesn't answer anything really. From here on our heroine develops cat-like super powers that enable her to crawl up and down walls, leap from massive heights, be well versed in martial arts and have cat-like hearing and sight....just like regular cats really. So we now know this film isn't about the DC comic book character, its actually about a completely different character that has nothing to do with the Batman universe, she's simply a cat woman, not Catwoman, but a cat woman. A woman who died, got resurrected by a mythical cat and was given cat-like super powers. Just happens to call herself Catwoman. I still don't really get why you would get all those abilities from being resurrected by a cat? do cats know martial arts? OK I'm being silly but seriously, why would you become a martial arts master?! becoming more agile and athletic sure but martial arts?? And do cats regularly climb up and down walls, across the ceiling and jump out of lofty buildings?? wut!?? Of course there are so many problems with this disaster I can't even recall them all. Berry is kinda OK for the role but she is made to look and act like some kind of slutty diva/hooker. I mean really, the way she walks and carries on, its not sexy it embarrassing! I've never seen someone try so hard to be slinky and sexy...ever! Its really awkward to watch as she purrs and meows trying to raise the average male viewers temperature, its so cheesy, did she actually try to be Eartha Kitt? Mind you Sharon Stone looks awful too, how much makeup?? geez! her haircut looks terrible and the fight sequence between her and Berry is laughable. She's an everyday executive for a makeup company yet when it comes to the crunch she can fight against a martial arts supremo? wow she kept some secrets then. An utter shambles frankly, nothing to do with what you expect...in any aspect, virtually an independent film and character. Its a shame because I'm sure this could of been pretty neat with the right people involved, its just hard to believe what we see up on the screen got approved! I think the only thing I can be positive about is the final shot in the film where she walks off across the rooftops against a full moon. That is the only nice true comic book visual of the entire film, the end.
Phil Hubbs
Super Reviewer
½
[img]http://images.rottentomatoes.com/images/user/icons/icon14.gif[/img] Catwoman doesn't deserve all the interrogation and outmost hate that it gets. Yes it's a film that you can look down your nose and laugh at, and there are reasonable flaws that can be use as reasons to dislike it. I dont know why I enjoyed this movie myself. I just did. As a critic, its my duty to say "i'm always right". This is the ONLY movie where I might have to criticise my own opinion. I dont know what made me enjoy it, or how it achieved it, but it entertained me.
Directors Cat
Super Reviewer
Ok, I'm aware that this is not the Catwoman we want to see since it's close to July 20th. However, I just re-watched the film so as to know about the most notable depictions of Catwoman and now I know Halle Berry is not competition for best Catwoman. In Catwoman, Halle Berry plays Patience Phillips who works at a cosmetics company. She finds out about a conspiracy brewing in the company and she ends up as Catwoman. The first thing wrong with the movie is that there's nothing to grab your attention. Halle Berry's character is generic and her transformation into Catwoman takes too long. It's not even that believable either. Her character dies, cats bring her back to life and she becomes Catwoman. The design of her suit doesn't even look good. The cowl for her head looks laughable and as far as I'm concerned, the leather suit she's wearing might as well be for an S&M night. The main antagonist is Sharon Stone and she's head of the cosmetics company. Now Catwoman has to stop her plans (whatever they are, the movie doesn't make it clear what the motives are) and put an end to the evil cosmetics company. Does that sound as stupid as it looks? I felt like a dumbass just by typing the ridiculous plot. The casting guy for this movie deserves to get his ass kicked. Halle Berry as Catwoman? Really? Also, Alex Borstein in a live action movie...come on. She's better off sticking to voice acting. The action scenes are really bland. Not only does nothing exciting happen, but the effects are piss-poor. Catwoman jumping around is just poorly done. Not for one minute did I believe an actual person was performing all those stunts. The effects made the movie look like a video game. The entire movie all builds up to a climax that is just boring, uninspired and predictable. Catwoman is a terrible superhero movie that ranks up with the likes of other shitty superhero movie like Batman and Robin and DareDevil. Hopefully, Anne Hathaway can pull off Catwoman in The Dark Knight Rises.
Tyler Robertson
Super Reviewer
Catwoman Quotes
| | |
| --- | --- |
| Laurel Hedare: | Game over. |
| Patience Phillips/Catwoman: | Guess what? It's overtime! |
| | |
| --- | --- |
| Laurel Hedare: | If you have no identity, why keep it a secret? |
| Patience Philips/Catwoman: | Because you killed me! |
| | |
| --- | --- |
| Patience Philips/Catwoman: | ''You know; Lassie would've brought me a key'' |
| Patience Philips/Catwoman: | You know; Lassie would've brought me a key. |
Discussion Forum
Discuss Catwoman on our Movie forum!