Chrysalis
(2007)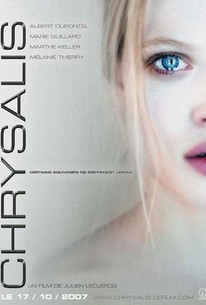 AUDIENCE SCORE
Critic Consensus: No consensus yet.
Movie Info
Film noir meets future shock in first-time feature filmmaker Julien Leclercq's ambitious sci fi thriller about a hard-boiled French police lieutenant investigating the mysterious death of an illegal immigrant. Years ago, wanted human trafficker Dimitry Nicolov (Alain Figlarz) murdered Police Lieutenant David Hoffman (Albert Dupontel)'s wife and partner to death as the horrified lawman watched helplessly nearby. In the aftermath of that killing, Nicolov disappeared without a trace. Flash forward to the year 2025, and the only thing that keeps Hoffman going is the thought of seeking revenge against Nicolov. When the body of a young illegal immigrant is discovered with mysterious scars around her eyes and her synapses completely fried, Lieutenant Hoffman's investigation eventually leads him to an ultra-modern plastic surgery clinic run by Professor Brügen (Marthe Keller). Much to Lieutenant Hoffman's surprise, Professor Brügen's clinic isn't simply concerned with issues of the flesh, but the valuable commodity of memory and identity as well. Currently, Professor Brügen has focused the majority of his research on a captive patient named Manon (Mélanie Thierry) - a teenage girl who had been horribly injured in an auto accident. As the investigation intensifies and Lieutenant Hoffman begins to make the connection between medical research and human smuggling, what was once a simple case of a wanted human trafficker gradually evolves into something infinitely more ominous.
Critic Reviews for Chrysalis
There are no critic reviews yet for Chrysalis. Keep checking Rotten Tomatoes for updates!
Audience Reviews for Chrysalis
A Paris cop encounters a series of victims with the same strange markings around their eyes and tracks his suspect to a hi-tec trauma hospital. Chrysalis features a premise built around memory manipulation, very much in the same vein as Total Recall and has the same blend of washed out cinematography and near future technology as Minority Report. Throw in some bone crunching fist fights and a couple of shoot outs and you have a French tech noir executed with some visual panache but little in the way of original ideas. What there is of it is efficiently done but the plot is a little too flimsy and the twist in the tale glaringly obvious, making the conclusion fail to live up to the promise of its early scenes. It's certainly not a bad film by any means, but the extremely similar Minority Report is so much better.
½
This is one of those movies that will catch you by surprise, I for one think the best way to watch any movie is in the actors native language, with subtitles on. Such is the case with this movie. French is the language. I started watching the movie in the English Dub's with Subtitles on and the voices were just so stupid, so I started again watching in French with English subtitles and it was just so much better. Those who watched it in the English Version and gave it a low score, might try to rewatch it in the French Version, you might find it more enjoyable. Chrysalis is a sci-fi thriller from debuting director Julien Leclercq. I myself would call it a futuristic Police Action Adventure. The story plot is a French Detective?s partner / lover is killed by a Bulgarian black-marketer. He picks up a new partner and at the same time a top surgeon Professor's daughter is injured bad in a car crash and she is preoccupied with physically and mentally reconstructing her daughter Manon who is played by Mélanie Thierry (Very beautiful). Both these stories tie in with each other. This is a 4 1/2 star movie. And for a director whose first movie was this good, I can only stand in line waiting for the next one.
Bruce Bruce
Super Reviewer
Gorgeous set design and cinematography offset some predictable narrative elements in this French sci-fi noir outing. Worth a look.
Chrysalis Quotes
There are no approved quotes yet for this movie.