What to know
critics consensus
Bloody horror with barbed wit, Come to Daddy anchors its brutal violence in a surprisingly mature approach to provocative themes. Read critic reviews
You might also like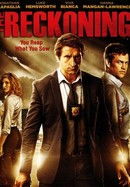 Rate And Review
Movie Info
A privileged man-child arrives at the beautiful and remote coastal cabin of his estranged father, whom he hasn't seen in 30 years. He quickly discovers that not only is his dad a jerk, he also has a shady past that is rushing to catch up with him.
Critic Reviews for Come to Daddy
Audience Reviews for Come to Daddy
Every now and then a weird movie will come along that intrigues me. One of the most surprisingly weird films I've seen in a while was The Lighthouse, so nothing is going to top that anytime soon, but I'd be lying if I said I didn't have a blast watching Come to Daddy. When you mesh an interesting premise with odd twists, usually you can hold my attention, but the fact that it also embraces everything being presented and completely delivers is just an added bonus. While I can't exactly recommend this film to all audiences, it's worth a watch for those who enjoy weird stuff. I think I enjoyed this film as much as I did, simply because it's not just weird, but also heartfelt.  Come to Daddy follows Norval (Elijah Wood), a man who hasn't seen his father in years, as he travels to reconnect with him after receiving a letter, stating that his father wished to see him again. That premise is really just the first act of the movie, due to many unexpected occurrences. Each act continued to surprise me, even though the finale sort of felt a little been-there-done-that. It takes a few leaps throughout its 95-minute run time, but if you find yourself engaged by these story shifts, I think you'll enjoy it as I did.  The Lord of the Rings trilogy is what put Elijah Wood on the map and he has seemed to mostly do independent films ever since. For this reason, most mainstream audiences probably don't even realize he's still out there giving really solid performances. His odd persona in this film was both engaging, yet incredibly eerie. The journey his character goes on is slightly unbelievable but ultimately works as a great arc for the character himself. I highly suggest, even if you don't watch this film, to seek out other work Elijah Wood has done because he really does continue to be a great actor.  Where this film may lose some viewers is after the second act kicks into gear, simply because the film becomes much more of a thriller/slasher film. It pretty much goes from a father and son reconnecting to the main character fighting for his life. This shift will probably be too much for some viewers and there are even moments of violence that will make some viewers sick to their stomachs, so be wary. There is really only one moment like that in particular, but I still feel the need to mention it.  In the end, Come to Daddy is one of the more enjoyable films that I've seen in quite some time that has seemed to go under the radar all the way until home release. I'm reviewing it now because this was the first time it was even available to me. So, if you're into a weird premise, as long as it's fun and told well, I would absolutely recommend checking this one out. I had more fun with Come to Daddy than I was expecting and I feel that some viewers will share in that experience. It is a huge mess at times in terms of where it wants to take the story, but it's ultimately satisfying.

After hitting the big time playing Frodo in Peter Jackson's seminal LORD OF THE RINGS trilogy, most will have only caught Elijah Wood playing bit parts in movies like ETERNAL SUNSHINE OF THE SPOTLESS MIND and SIN CITY since then. He's had the fortune of cashing in big on acting early in life and moving into production (MANDY, THE GREASY STRANGLER) while raising the profile of smaller, indie productions (MANIAC, I DON'T FEEL AT HOME IN THIS WORLD ANYMORE). Mr. Wood is a talented actor with good taste and fervor for outsider film, but in the plethora of independent productions that come out every year, they can't all be zingers. COME TO DADDY is by no means a terrible film, but it's nothing to call home to mother about. Director Ant Timpson is noted for producing THE GREASY STRANGLER and TURBO KID, both films that juggle humor and violence to different tonal ends. Inspired by witnessing the passing of his father, Timpson wanted to pay homage to his dad's memory with this story of a father and son's ill-fated attempt at reconnecting after an estrangement many years prior. Wood plays a Skrillex knockoff hipster invited out to his father's remote beach house. There he is greeted by an antagonistic drunkard, played as grisly and poker-faced as could be hoped for by the always intimidating Stephen McHattie. After a very PARASITE-esque second act rug-pull, we are strung along through a series of bizarre and violent interactions, and there is where the fabric of the film begins to tear. While first seeming to be a skewering of shock gore genre conventions, the film starts to wallow in it, and it's not just viscerally unpleasant, the whole tone becomes much more darker and almost mean-spirited. I was reminded of THE BOONDOCK SAINTS in that the violence portrayed is so "edgy" that only an adolescent boy could really appreciate it. It's crass and largely functions as a poor placeholder for plot and characterization for the last half of the film. Any mystery is briefly dispelled by exposition without any impact, and we're rushed on to the next bit of shock/schlock. So when the cartoonish brutality comes back around to this intended sentimentality, this fond farewell to a father from his son feels like shoving a Snickers bar in a knife wound - neither aspect is enjoyable. With that said, COME TO DADDY still delivers an entertaining time if not solely for Wood and McHattie's anti-chemistry. Despite the association with THE GREASY STRANGLER, the film is not nearly as grotesque or obnoxious, and for however little sense the plot makes, it eventually gets somewhere. Timpson and Wood said outright at the premiere that the movie is for a niche audience, and that is undeniable. I can appreciate that it's the director's debut, and he clearly had good intentions. I just wish that he would have workshopped the film a bit more as it tries to do many things but only fully succeeds at being unpleasant.
Quotes
There are no approved quotes yet for this movie.