Crazy Lips
(2000)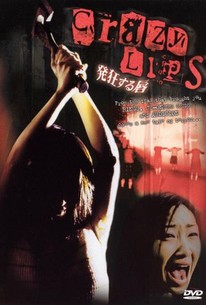 AUDIENCE SCORE
Critic Consensus: No consensus yet.
Movie Info
This violent and shocking tale of horror from Japan concerns Satomi (Hitomi Miwa), who is one of three children being raised by a recent widow. Satomi's brother is accused by police of being a killer who has been chopping off the heads of innocent schoolgirls. Certain her sibling must be innocent of these charges, Satomi contacts a psychic in hopes of finding evidence which could clear his name; however, the medium demands a heavy price, and the consequences take Satomi to a strange and unexpected place. Crazy Lips was written by Hiroshi Takahashi, who also penned the script for the international success Ringu.
Critic Reviews for Crazy Lips
There are no critic reviews yet for Crazy Lips. Keep checking Rotten Tomatoes for updates!
Audience Reviews for Crazy Lips
½
"Crazy" is a fairly apt description of this film. What starts and feels like an unexceptional and predictable horror film continues to defy narrative expectations by taking one weird turn after another. Not that this makes the film terrific by any means, but it certainly kept me engaged enough to keep watching. The director was clearly influenced by Twin Peaks and David Lynch, and not all in good ways.
Crazy is definitely an understatement here. I feel sorry for the folks who rented this because of the cover of the DVD stating that it's from the same folk who brought you The RIng, Ju-on and Audition, because this is a bizarre, bizarre film. A mother and 2 sisters seek the help of a psychic couple to prove that their brother hasn't followed their father's footsteps and become a murderer. Sounds fairly straight forward huh? Add to that kung fu, necrophilia, rape, a musical number, sexy dancing newscasters and lots of weirdness and most folks would be throwing their remote at the TV. Not me though, I quite dug it. Sure it's strange, but it's consistently entertaining and certainly unpredictable to say the least. Now I got to watch the sequel, Gore From Outer Space!
Christopher Brown
Super Reviewer
Crazy Lips Quotes
There are no approved quotes yet for this movie.