Le Crime de Monsieur Lange (The Crime of Monsieur Lange)
(1936)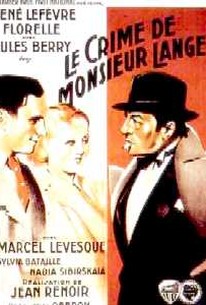 Le Crime de Monsieur Lange (The Crime of Monsieur Lange) Photos
Movie Info
Jean Renoir was the director of The Crime of Monsieur Lange, but this French film might just as well have been made in Hollywood by Frank Capra. The titular Lange (Rene Lefevre) is an author of wild west novels. When the owner of the company that publishes Lange's works absconds with the company funds, Lange rallies the employees together to create their own publishing house. The publisher returns, disguised as a priest, and demands a share of the profits. Lange responds by killing the bounder. The grateful employees help Lange to escape prosecution, allowing him to leave the country with his lovely fiancee (Florelle). Jacques Prevert adapted the screenplay of The Crime of Monsieur Lange from a story by Renoir and Jean Castanier. Stage actor Jules Berry makes his film debut in the role of the shady publisher. ~ Hal Erickson, Rovi
Rating:
NR
Genre:
, ,
Directed By:
In Theaters:
Runtime:
Critic Reviews for Le Crime de Monsieur Lange (The Crime of Monsieur Lange)
Audience Reviews for Le Crime de Monsieur Lange (The Crime of Monsieur Lange)
Often marked as "one of Renoir's greatest films," LE CRIME DE MONSIEUR LANGE is a platform for us to witness how a director can convert propaganda into memorable art. The script is full of wit but Renoir is the hero, here. He allows for multiple perspectives and concise characterization to produce a quick, jaunty, and bright film. LANGE is dense with insightful stagings. Renoir had learned by 1936 that everything serves character. In some ways, he recalls the swift attitude in Hawks's comedies. The camera work is clearly more radical, but they both succeed with abundant charm and aim every device at the service of character. Visually, some usual complexities are reserved for the end where the street allows for at least two excellent tracking shots. LANGE presents some of the most precise and concise characterizations in the Renoir repertoire. Batala is given superior attention. If we compare him to the capitalist villain in something like STRIKE, we find that Renoir believes in the complexity of thought even when working with a simple and economic script. In his frequent manipulation of women, Renoir illuminates the tight bond between money, power, and sex. His metamorphosis into a priest is loaded with dubious criticism, but is still the source of comedy. The best component of LANGE might be the frequent allusions to Americana and westerns. It asserts that the American frontier was imbued with absolute freedom and the characters use it to focus their socialist fantasies. This parallel between socialist idealism and dreams of the West play incredibly well as an object of cinema. LANGE even gets its own joke -- "It's only a movie." The film is dense with the inimitable charm of Renoir, consistently exquisite photography, and forceful characterization. The comedy is presented with ease and subtlety. It is only unfortunate that so much of the commentary is excessively heavy. Capitalism comes back from the dead only to be defeated by Socialism. Socialism gets away with murder and walk happily out into infinity. 79.7
Matthew Zurcher
½
woody allen speaks of his love of renoir's films, and each time i watch one, it feels like seeing the tendrils of inspiration pass from one genius to another. strands of this film are woven into the comedy of 'bullets over broadway,' and the moral questioning of 'match point,' and 'crimes and misdemeanors.' like all of renoir's films, the social allegory is easy to miss because it is so completely masked by a detailed premise and the drives of the individual characters. it never stops to pound its politics into the audience's head (the way many films of the period enjoyed doing). instead it makes its point by presenting a truthful situation in which hard choices must be made, choices that happen to reflect the political climate of the time.
Joe LaRue
A delightful socialist-minded movie from Renoir. Primarily a comedy, but with light dashes of drama, romance, musical and thriller. All of the actors are charming, but especially noteworthy is Jules Berry as the devious Batala. Quite enjoyable, right up there with some of Renoir's best, and with his usual flair for exceptional camerawork. A bit slight and forgettable, perhaps, but it's one I would return to.
Martin Teller
Le Crime de Monsieur Lange (The Crime of Monsieur Lange) Quotes
There are no approved quotes yet for this movie.