Croc
(2007)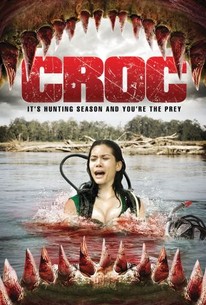 AUDIENCE SCORE
Critic Consensus: No consensus yet.
Movie Info
An enormous crocodile terrorizes a Thai beach resort in this tale of terror in the water starring Michael Madsen. As the local begin to mysteriously disappear and various appendages are found floating in the swamps, the locals offer $5000 to anyone able to capture the beast responsible for all the bloodshed. While local crocodile hunter Hawkins (Madsen) is ready and willing to track down the man-eating monster, he begins to suspect that he's dealing with a more powerful force than he ever imagined as the body count continues to rise, and the blood-curdling screams of the locals echo eerily through the treacherous swamps.
Audience Reviews for Croc
I was flipping through movie channels, looking for something to watch & Croc was about to come on in 5 minutes so I thought, why not? The description sounded interesting & it had been given 3 stars so it had to be an OK movie, right? Wrong!!! How & why did this movie get 3 stars? The only reason at all I can think of that this movie got 3 stars was the scenery.I can understand if it got 1 or 2 stars, but 3? Croc was a complete & total time waster.The thing that really got me was how huge the croc was at times, but other times it was normal size.Most of all it wasn't scary looking.After it was over I wondered why did I sit through the whole thing? The best thing I can say about Croc is at least I didn't have to pay to see it.If I did, I would've wanted my $$$ back.I can't recommend anybody go see this movie unless you're a Syfy channel movie fanatic or you LOVE extremely bad creature features.There are better creature features out there, I'd suggest watching 1 of those & skipping this 1
Brody Manson
Super Reviewer
½
Another totally boring psydo Jaws rip off with a croc instead of a shark. Just uninspired.
Ken Stachnik
Super Reviewer
½
A mixture of stock footage, animatronics, real crocs and a few CG shots combine to "bring life" to this hokey but cheerful killer croc movie. Madsen keeps himself in the background until the end, and puts in more effort than the role requires. The land developer subplot is used well and quickly disposed of for the finale. Some people just can't capture the pain of being eaten by a crocodile. The setting allows for some nice scenery. Perhaps better than you'd expect.
Luke Baldock
Super Reviewer
Croc Quotes
There are no approved quotes yet for this movie.