Crocodile 2: Death Swamp
(2001)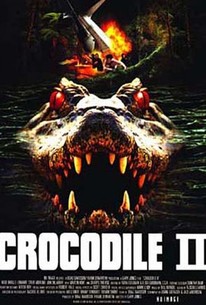 AUDIENCE SCORE
Critic Consensus: No consensus yet.
Crocodile 2: Death Swamp Photos
Movie Info
A band of black-garbed bank robbers packs up the loot from their latest bloody heist and heads for Mexico aboard a commercial airliner with passengers on holiday. When bad weather compels the pilot to turn the plane around, the bandits highjack it, taking it straight into a tremendous storm which causes the plane to crash into fiery pieces in a swamp. The survivors include only a few passengers, most of the bad guys, and a pretty flight attendant (Heidi Noelle Lenhardt), whose fiancé in Acapulco hires a renegade professional tracker (Martin Kove) to help him find the downed plane when the authorities prove useless. The rescuers had better hurry: The swamp is the home of a prehistoric-sized crocodile, and she's 1) angry, and, 2) hungry.
Critic Reviews for Crocodile 2: Death Swamp
Audience Reviews for Crocodile 2: Death Swamp
½
Another humourously awful creature-feature from Nu Image. 25 minutes in and you'll be wondering just how a crocodile will actually find itself in this ludicrous plot, which starts off with a brutal bank heist then moves onto a plane hijacking! But the blood-thirsty psycho Croc gets some action once the hijacked plane crashes into the Mexican swampland and feasts on the survivors. It's fun at times and just like the first movie it's never dull or boring. Depends on your tolerance for bad movies whether you'll enjoy this or not.
Surprisingly ambitious and not that terrible. Competently written, which is more that I can say for a lot of movies of this ilk.
Ken Stachnik
Super Reviewer
Crocodile II doesn't pick up where the last left off. A new crock and new victims. Again poor effects, but slightly better acting. Just your average crap fun.
Luke Baldock
Super Reviewer
Crocodile 2: Death Swamp Quotes
There are no approved quotes yet for this movie.