Crossfire
(1947)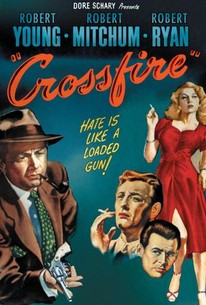 Movie Info
A landmark Hollywood drama for its sharp look at the touchy subject of anti-Semitic attitudes in the U.S., Crossfire is set in a hotel just after the end of WW II and begins with the murder of a Jewish guest. The prime suspects are a trio of recently returned GIs, and a level-headed detective sets off to find which one of them (if not all of them) is guilty. Robert Ryan gives a fine performance in an underwritten role, but the film is otherwise visually static and somewhat pretentious, lacking a meaningful style and showing little depth. Despite its flaws, the film has some power and caused controversy. Because of the film's subtext of prejudice and anti-Semitism, filmmaker Edward Dmytryk became one of the first 10 Hollywood figures blacklisted by McCarthy's House Committee on Un-American Activities.
Critic Reviews for Crossfire
Audience Reviews for Crossfire
½
When a Jewish man is beaten to death in a hate crime, police detective Robert Young finds his suspicions as to the culprit difficult to prove. Although it has many of the visual trappings of Film Noir, Crossfire is more of an examination of prejudice and its repercussions in society. The crux of the film is Young's "hate is a gun" speech that highlights the dangers of blind hatred, and as such it's a very well meaning as well as well written film. Young gives a solid performance as the sardonic cop, as does Robert Mitchum as a soldier caught up in events although his dominating presence is a little too thin on the ground. The ever reliable Gloria Grahame also appears as a bitter vamp and Paul Kelly is an interesting supporting character but it's Robert Ryan's show all the way whose chilling portrayal of a racist psychopath was nominated for an Oscar. Perhaps lacking a focal character, Crossfire is still a very interesting and thoughtful detective story with a timeless message.
A man is found beaten to death in his apartment. The last people he was seen with were four soliders. One of them did it, but which one? Robert Young as a police detective, in a better performance than I would normally expect out of him, wants to find out. Even though it's pretty obvious who the killer is early on, I won't give it away here. This film about prejudice and Anti-Semitism should remind all of us how dangerous intolerance like that can be if taken to the extreme.
½
A social commentary that pretends to be a murder mystery. Crossfire's main purpose is explaining prejudice or hatred of somebody just because they are a member of a certain group. For that emphasis, it's a very interesting movie and sets it apart from most films in its' time, but its minor storyline is more compelling.
El Hombre Invisible
Super Reviewer
Crossfire Quotes
| | |
| --- | --- |
| Leroy: | He wants to see you, Monty. He asked me to tell ya he wants to see you. Honest, I didn't know whether I ought to tell you or not, you don't want to get mixed up in anything more than you are, but he was acting crazy Monty. He gave me a crazy thing to tell you. He said to tell you the necktie wasn't any good. What'd he mean by that Monty? |
| | |
| --- | --- |
| Capt. Finlay: | Well hate, Monty's kind of hate, is like a gun. If you carry it around with you it can go off and kill somebody. It killed Samuels last night. |
| | |
| --- | --- |
| Sgt. Peter Kelley: | You've got a mind like a dog catcher. |
| | |
| --- | --- |
| Ginny Tremaine: | Ha, sure I know - I remind you of your sister. |
| Arthur Mitchell: | You remind me of my wife. |