Cruel Intentions 2
(2000)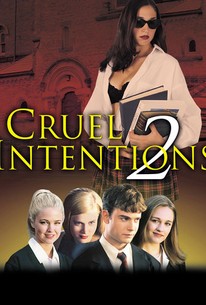 Cruel Intentions 2 Photos
Movie Info
In this direct-to-video prequel to the 1999 feature Cruel Intentions, Kathryn Merte (Amy Adams) is the manipulative, cold-hearted daughter of social climber Tiffany Merte-Valmont (Mimi Rogers). Tiffany has just married again, and Kathryn is not getting along well with her new stepbrother Sebastian (Robin Dunne), who is just as skilled in the venomous art of social gamesmanship as Kathryn. Together they negotiate the tricky paths of sexual and personal power at their upscale private high school, Manchester Prep. Cruel Intentions II began life as Manchester Prep, a TV series for the Fox network that was spun off from the hit film by director and screenwriter Roger Kumble. However, the show's portrayal of sexually voracious teens sparked a controversy in the press, and Fox opted to cancel the series before the two episodes that had been completed ever aired. The footage from the completed shows was combined with new material created by Kumble to make this feature.
Critic Reviews for Cruel Intentions 2
Audience Reviews for Cruel Intentions 2
Nostalgia for the original inspired me to dig out the two sequels, even though I can remember seeing this 10 years ago and really not being impressed. Now I remember why. This takes place before the original when Sebastian has only just gone to live with Katherine and family. To be fair, Amy Adams does a decent job of channelling Sarah Michelle Gellar's bitchy Katherine, despite her physical differences, she even has the tone of voice down right. What falls flat here was that SMG's Katherine is secretly evil, and this one is more open about being a bitch. It doesn't work - the whole point of the first one was that Katherine lost what was most important to her - her reputation. I don't think anyone at all would be shocked to find Amy Adam's Katherine is a bitch on wheels. The plot, what there is of it, is pretty much a direct steal from the first, only with twists put in it just for shock value. Instead of principals daughter, Annette (Reese Witherspoon), we have principal's daughter Danielle (Sarah Thompson). This pretty much tacks up the genuine emotions in the original films and turns it into faux lesbian crap. There are no life lessons here. Heaven help me, I still have the 3rd one to get through...
Nicki Marie
Super Reviewer
½
Watched this to see if Amy Adams could do anything but bubble nice girl. Turns out she can be bubbly nice but scowly. This had one of the oddest turn arounds in movie history with the exception of maybe Perfume. The whole movie builds up a really weak and pointless plot, but in the last 20 minutes in suddenly decides to trash it all and try to make it sexy without making it worth while watching sexy. In the end all that it works for is destroyed and you are left there feeling the need to poop.
Curtis Lilly
Super Reviewer
This comedy-drama captures the sexual chemistry and treachery that made Dangerous Liaisons so much fun and hotter with beautiful and sexy girls.
Dean McKenna
Super Reviewer
Cruel Intentions 2 Quotes
There are no approved quotes yet for this movie.