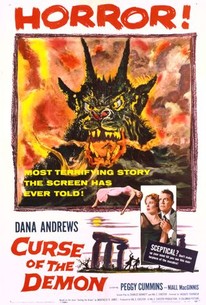 Curse of the Demon
1957, Horror, 1h 22m
16 Reviews
2,500+ Ratings
Where to watch
Rent/buy
Rent/buy
Rent/buy
Rate And Review
Curse of the Demon Photos
Movie Info
American professor John Holden (Dana Andrews) arrives in London for a conference on parapsychology only to discover that the colleague he was supposed to meet was killed in a freak accident the day before. It turns out that the deceased had been investigating a cult lead by Dr. Julian Karswell (Niall MacGinnis). Though a skeptic, Holden is suspicious of the devil-worshiping Karswell. Following a trail of mysterious manuscripts, Holden enters a world that makes him question his faith in science.
Audience Reviews for Curse of the Demon
A good horror movie that feels in some ways like a â~Bâ(TM) film, but one thatâ(TM)s elevated by its intelligence and superior story-telling from director Jacques Tourneur. Much has been said negatively about the beginning of the film, which shows the demon, but I have to say, it did have the effect of grabbing me from the start. What it really undermines is the scientist (Dana Andres) who arrives to investigate the leader of a satanic cult (Niall Macginnis) â" I loved the bite in his skepticism (âAll good scientists are from Missouri: in other words, they should continually be saying, 'Show Meâ(TM)â?), but unfortunately, the film has left no doubt that heâ(TM)s ultimately going to be wrong. The film has some nice moments in the middle, but itâ(TM)s a little muddled as well, and with some contrived actions (heâ(TM)s really going to break into that gigantic mansion to look for a book that the cult leader has already offered to show him, and then walk away from it without further questions?). It certainly finishes strong - I loved the clever exchange attempts near the end on the train, followed by the tense action which ensues on the train tracks. Itâ(TM)s a horror film so I suppose not too much should be read into it, but I was a little conflicted about the treatment of rational, intelligent science â" shown as close-minded and arrogant throughout the film, and then ending with the ultimate defeat in the line âYou were right. Maybe it's better not to know,â? which of course is anathema to a scientist. All in all though, a good one for the genre.

The sad fact that this classic horror movie shows the monster right away in the beginning (against the director's wishes) doesn't eliminate its undeniable qualities, such as an elegant dialogue and an intelligent plot with characters who behave like intelligent people would.

I absolutely loved this horror movie. The story is classic, but also modern. The actors are great. And the ending is way cool. If you've seen the new movie, Drag Me to Hell, you'll see many similarities with this movie.

At times it's brilliant visually. To its credit, it actually scared me a bit, too. The weakest part is the actual demon, which thankfully only appears very briefly at the beginning and the end.
See Details