Dark Kingdom: The Dragon King
(2006)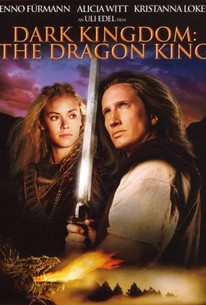 AUDIENCE SCORE
Critic Consensus: No consensus yet.
Dark Kingdom: The Dragon King Photos
Movie Info
After witnessing the brutal murder of his powerful father King Solomon of the Netherlands, a young heir to the throne begins preparation for his ultimate revenge in director Uli Edel's medivel tale of might and magic. An allied royal court has granted refuge to young Siegfried following the tragic death of his father, and in the following years Siegfried trains to become a formidable warrior as his magical mother Hjordis watches over him with a loving eye. When Siegfried acquires a magical sword said to have been forged from a fallen star, he sets out to slay the fearsome dragon Fafnir and lay claim to the gold that the horrid beast had stolen from the mythical Nibelungs. His victory over the dragon affording him the opportunity to bathe in its blood and achieve invincibility, Siegfried's glory is quickly tarnished when the Nibelungs reappear and demand the return of their treasure. Though Siegfried eventually agrees to bestow the Nibelungs the majority of the treasure, his unwise decision to retain the cursed ring that forms the very core of the valuable booty ensures that he will never experience true love for as long as it remains in his possession.
Critic Reviews for Dark Kingdom: The Dragon King
Audience Reviews for Dark Kingdom: The Dragon King
½
This director could give Uwe Boll a run for his money for putting out this lump of crap. This movie sucks wrinkled yambag.
Chad Roesti
Super Reviewer
½
I picked this up fully expecting some horrible fantasy crap fest. There are a lot of them out there. But this was actually pretty good. it was a very accurate retelling of the Ring saga and a very good one at that.
John Manard
Super Reviewer
Bad acting, pretty ok movie, even though many things felt shamelessly ripped from Lord of the Rings.
Dark Kingdom: The Dragon King Quotes