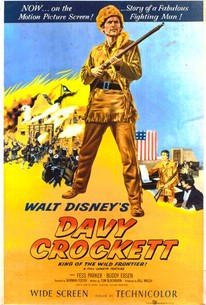 Davy Crockett: King of the Wild Frontier
1955, Kids & family/Adventure, 1h 33m
6 Reviews
500+ Ratings
Where to watch
Rent/buy
Subscription
Rent/buy
Rate And Review
Davy Crockett: King of the Wild Frontier Photos
Movie Info
This big-screen movie featuring the coonskin-capped Davy Crockett (Fess Parker) consists of the first three episodes that aired on the Disneyland TV show in 1954. Crockett and his pal George Russel (Buddy Ebsen) battle Native Americans, and Russel gets captured. Crockett does what it takes to save his friend. After the wars, Crockett runs a successful political campaign to become a congressman. But the Texas Revolution calls him back to fight, and he makes his last stand at the Alamo.
Audience Reviews for Davy Crockett: King of the Wild Frontier
Extremely dated and very much feeling like a strung together collection of TV episodes, which in fact it was, it's not without its charms. Key among them being Fess Parker as Davy, who has sort of a Clooney vibe to him. I also kind of like the old school Disney look at the frontier. Yeah it is the legends and everything, down to Davy wearing his coonskin cap right into congress. But hell, they even acknowledge it with him addressing the legends made of him, so that's kind of neat. But it's not without its camp and weird moments. His wife dies as more of a secondary thought and the kids are never seen again, the portrayal of the natives are problematic at best, and the sets are very much TV budget. But some of these things, at least that last one, are part of the charm. Honestly I laughed out loud when I saw him punch off screen at stock footage of an alligator. Definitely not intentional, but charming. There's other moments that are still campy but effective though. When they're at the Alamo and they draw a literal line in the sand of who will stand with them, James Bowie asks for his men's help because he's too weak to walk over the line. It's cheesy as hell, but it's the right kind of cheese you want in a movie like this. In the end the movie is…harmless. Like little kids playing cowboys and Indians, sometimes quite literally. This makes it pretty dated, a bit naive, but historically interesting in the sense that hey, this is how we saw history. As a movie now, it's not without its charms, but it's also pretty slow, little boring, and doesn't flow super well.

One of my all-time favorite movies growing up, and I just watched it again tonight and it was better than ever!

A very interesting look at Davy Crockett, although it's very inaccurate looking. The costumes look hilarious by today's standards, they look anything but authentic. The story was extremely jumbled around to make it theatrical. Overall, it's a fun movie, but not much more than that.
See Details