Day Watch
(2007)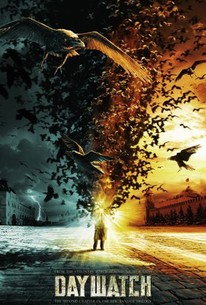 TOMATOMETER
AUDIENCE SCORE
Critic Consensus: Day Watch is frequently cheesy but it offers enough twists, surprises, and inventive action sequences to maintain viewer interest.
Movie Info
The apocalyptic sci-fi thriller Day Watch (aka Dvevnoy Dozor, 2006) constitutes the second installment in a planned supernatural trilogy by Russian director Timur Bekmambetov. As preceded by 2004's blockbuster Night Watch and followed by Twilight Watch, this sophomore film picks up on the byzantine tale of a world where, centuries ago, the powers of light (representing goodness) and the powers of darkness (representing evil) called a truce. Each side set up a law-enforcement team to guard and monitor the other's activities -- the powers of darkness established and controlled the Day Watch, while the powers of light established and controlled the Night Watch. Day Watch opens in the 14th century, when Tamerlane, a Mongol warrior, acquires an implement called "The Chalk of Destiny," that can be used to guide the course of history. Eons later (in the present day), the Day Watch and the Night Watch are ongoing. Two Warriors of Light, Anton Gorodetsky (Konstantin Khabensky) and his protégé/partner-in-training, Svetlana (Maria Poroshina), quietly develop feelings for one another as they patrol the Night Watch together. As the story progresses, the pair must respond to a distress call from an octogenarian victim of a vampiric attack -- an attack committed (as it turns out) by Anton's 12-year-old son, Yegor (Dima Martynov) -- now a Warrior of Darkness. Anton must suddenly wrestle with two conflicting desires -- the need to protect his offspring by destroying incriminating evidence, and his own desire to remain loyal to the Night Watch. Several additional subplots then unfold concurrently, including that of Yegor learning to practice evil from his mentor, Zavulon (Viktor Verzhbitsky), that of Anton "body swapping" with associate Olga (Galina Tyunina), and that of the relationship between a vampiric child, Kostya (Aleksei Chadov), and his dad (Valery Zolotukhin), who works as a butcher. ~ Nathan Southern, Rovi
News & Interviews for Day Watch
Critic Reviews for Day Watch
Audience Reviews for Day Watch
Fans of the original will surely love this follow up, but it is never anything great. Day Watch is good, but leaves a lot be desired. I thought that the film was well constructed with a prominent sense of style, which is a trademark of Bekmambetov's films. Day Watch in many ways is a better film than Night Watch because it expands on the story established in the first entry. Night Watch was a film that was all over the place with its plot and relied on its visual style to create its entertainment value. Although similar, this film tones down on heavy special effects and focusing more on storytelling. But that's not saying that effects are not prominent in the film. There are plenty of scenes that have effects and are quite exciting, but the plot is better thought out here and the film is a more focused, more detailed movie. The performances are good and there are aspects of the film should appeal genre fans. However as a whole, the sequel doesn't break any new ground in terms of vampire lore. I enjoyed the film, but I felt it could have been better and it was on par with the original. Visually striking, with toned down effects and a good story, Day Watch is a worthwhile follow up to Night Watch. Fans of the first film will most likely enjoy this entry and it boasts some effective action and tense, horrifying scenes that will certainly delight genre fans. Either way you slice it, these films are only mildly entertaining, and won't be seen as classics of the genre. With that said, this is worth seeing for mindless entertainment value, but if you're looking for a standout feature, you'll sadly be disappointed.
½
A slight improvement on its predecessor mainly because this one knows how over the top and ridiculous this premise is and just runs with it at a breakneck pace without looking back. This one has more action, thrills, and humor than the first. It's also not as dreary. The story still makes little sense as it is happening, and the movie still has problems with figuring out what parts of the plot are important and which ones aren't, but this one is more entertaining than the first, mainly because the visuals are better and the eye candy quotient was raised. This series is off the wall craziness mixed with a little horror and humor. If that sounds like your thing, then give them a try.
Josh Lewis
Super Reviewer
½
At some point, I felt really stupid watching this. I mean it made no sense. But this movie isn't that terrible. Though I don't recommend it to watch.
Dead Angel
Super Reviewer