Dead Time Stories
(1986)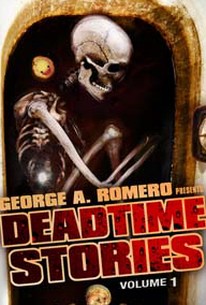 Movie Info
Inspired by traditional fairy tales, this trio of gruesome and darkly-comic vignettes is framed by the story of a lethargic uncle who can't seem to alleviate his bratty young nephew's fear of the dark, trying his hand at a few warped, testosterone-fueled versions of his favorite bedtime tales. The first installment, "Peter and the Witches," tells the story of a young fisherman (Scott Valentine) enslaved by two shape-shifting witches who are trying to bring their sister back to life; he later rebels against his masters after falling in love with the virgin they've captured as a sacrifice. The goofy second chapter involves "Little Red Running Hood" -- a somewhat shapelier modern version of the classic heroine -- whose jog to Granny's house leads to a showdown with a pill-popping weirdo whose anti-werewolf remedy got switched with Granny's prescription. Still unable to satisfy the demanding tyke, the exhausted uncle pulls out all the stops for the final tale, in which the Three Baers -- a family of murderous crackers -- encounter the telekinetic Goldi Lox, a malevolent cutie who shares the Baers' penchant for death and dismemberment. Originally titled Freaky Fairy Tales, this plodding, pedestrian film wandered in distribution limbo until Valentine's role in "Family Ties" lent some degree of marquee value. The cynical closing (in which the nephew's fears turn out to be justified) is rather satisfying, though.
Critic Reviews for Dead Time Stories
Audience Reviews for Dead Time Stories
One of the worst anthology horror movies I've ever seen. Only one story is any good, but the others are stupid and not even scary.
½
I saw this in a very horrible print. The fairy tales were sort of raped. A bad storyteller would make up that kinda stories. I mean who will talk about "Adult Thingy" in front of a child. He wanted to hear something miserable but not a porn story or whatever. The ending was weird. This was no near watchable. Don't recommend this to watch.
Dead Angel
Super Reviewer
½
Just twisted and stupid enough to be entertaining. For hardcore 80's fans only.
A.D. Villarreal
Super Reviewer
Dead Time Stories Quotes
There are no approved quotes yet for this movie.