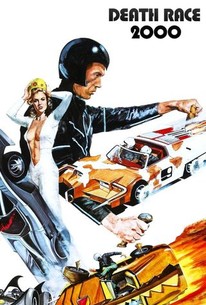 Death Race 2000
1975, Action/Comedy, 1h 18m
37 Reviews
25,000+ Ratings
What to know
Critics Consensus
Death Race 2000 is a fun, campy classic, drawing genuine thrills from its mindless ultra-violence. Read critic reviews
Rate And Review
Movie Info
In the year 2000, America is a totalitarian regime on the brink of collapse. The most popular sport in this dystopia is the Transcontinental Road Race, where teams earn points for logging the fastest time and for mowing over the most innocent pedestrians in the process. This year's competitors include Frankenstein (David Carradine), who is rumored to be more machine than man, and the tough-as-nails "Machine Gun" Joe Viterbo (Sylvester Stallone). Some have a plan to stop the race.
News & Interviews for Death Race 2000
Audience Reviews for Death Race 2000
If anyone ever asks you what a "Cult Classic" is, you can just tell them to Google it-- I mean, show them this film. Death Race 2000 is great 1970's cheese with a ripper of a Stalone role thrown in for good measure.

The kind of film you wish was better as it felt very cheap and rushed and it's more silly than anything, Having said that there was some nice violent kills plus Stallones character was brilliant and funny, It's short run time isn't too bad as it does tend to run out of steam quickly but it's ok for its time.

The cult classic '70s exploitation film Death Race 2000 is a provocative, ultra-violent rampage. In a dystopian future an annual cross-country race is put on to entertain the masses in which racers score points by running down and killing pedestrians, but the tables are turned when a rebellion attempts to takeout the racers. The film explores some very interesting issues, such as the culture of violence, the power of the media, and domestic terrorism. David Carradine and Sylvester Stallone lead the cast and give strong performances; especially Stallone, who brings a lot of charisma to the film. However, the production value is extremely low-budget, which is typical for a Roger Corman film. Death Race 2000 is an edgy thriller that tackles some controversial issues, but the filmmaking style holds it back.

Mr. President: The drivers are ready, the world is watching. Once more, I give you what you want. "A Cross Country Road Wreck!" Death Race 2000 is another Roger Corman produced film. It has a pretty good cult following and why, I don't really know. It's also another dystopian film that uses sporting events to control the masses and also to spread the love of violence. The dialogue is beyond bad, the acting(besides Carradine is awful), and the movie is just down right stupid. I can see why some people would have fun with it and I did for about 20 minutes, but as it ran on, the fun diminished for me more each second. Luckily the movie only comes in at an hour and nineteen minutes, which allows the film to have easy watchability. As with any Corman produced film you know what he's selling. He's going to rip-off other movies, he's going to show breasts, it's going to be bloody, and it's going to be bad. For some reason though, a lot of people actually think this is a good movie. In Corman standards, it's a lot better than most, but it's also less fun than most in my mind. I wouldn't go as far as to say I hated the movie completely. It had its moments and there were some funny parts. I still didn't like it though.
See Details