Demonia
(1990)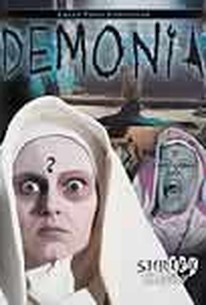 AUDIENCE SCORE
Critic Consensus: No consensus yet.
Movie Info
Italian cult favorite Lucio Fulci (Zombi 2) directed this atmospheric return to the Gothic themes which had brought him such success in the early '80s, and reminds the viewer of a pair of those early works in the opening scenes. Beginning with the horrifying torture, crucifixion, and flaming deaths of a group of nuns beneath a convent in 1486 Sicily (reminiscent of the opening murder of the warlock in L'Aldila), the film then flashes forward to modern-day Toronto, where Liza (Meg Register) has visions of their deaths at a séance (as in the opening of Paura nella Citta dei Morti-Viventi). Naturally, Liza soon finds herself in Sicily, along with archaeologist Professor Paul Evans (Brett Halsey) and his colleague, Porter (Al Cliver). Nosing around the convent, she breaks open the crypt, unleashing the nuns' expectedly bloody occult vengeance. People are impaled on spikes, a woman (Carla Cassola) has her eyes ripped out by her pet cats, a mean butcher (Lino Salemme) has a meathook driven through his neck and his tongue nailed to a board, and so on. Things reach a predictable frenzy with an angry mob, a nun with no face, demonic possession, and a man ripped completely in two. There's also a bizarre back story about the nuns seducing local youths and murdering them at the moment of orgasm to obtain their blood for Satanic rituals. None of it makes much sense, and most fans of the director seeking a return to form found Demonia a pale imitation of his notorious Gothics, particularly coming so soon after Michele Soavi's similar -- and more successful -- La Chiesa. ~ Robert Firsching, Rovi
Critic Reviews for Demonia
There are no critic reviews yet for Demonia. Keep checking Rotten Tomatoes for updates!
Audience Reviews for Demonia
I fear Nuns in real. I tell you
Bereft of any style, mood or scares you'd think this was a Bruno Mattei disaster instead of Lucio Fulci. A few (2) good gory moments but unless you're a Fulci completist there's no reason to suffer through this demonic dud.
A.D. Villarreal
Super Reviewer
½
One good death does not a movie make, but when it's Fulci it kinda does. Moderately good film, the atmosphere makes up for what the story lacks. Worth watching once you've seen all Fulci's great ones.
Christopher Brown
Super Reviewer
Demonia Quotes
There are no approved quotes yet for this movie.