The Desert Fox
(1951)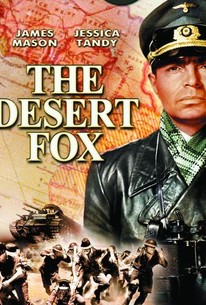 Movie Info
The Desert Fox is a superb filmed biography of German general Erwin Rommel, concentrating on the period between his retreat from North Africa and his government-decreed death. A brilliant tactician, Rommel earns the respect not only of his own men but of the enemy. Unfortunately, Adolph Hitler (Luther Adler), laboring under the delusion that he too is a military genius, demands more of Rommel than he's able to provide. Ordered to stand his ground in Africa to the last man, Rommel realizes that it's more intelligent in the long run to retreat; this incurs Hitler's wrath, but Rommel is a war hero, and as such is virtually "untouchable". Increasingly disgusted by Hitler's behavior, Rommel joins in a plot to assassinate the Fuhrer. The attempt fails, and Rommel's complicity is discovered. He is given a choice: either face a horrible death by torture, or commit suicide, thereby saving his family and his reputation. Rommel opts for the latter; the official story given to the press is that Rommel died heroically of his war wounds. Also appearing in The Desert Fox are Jessica Tandy as Rommel's wife and Leo G. Carroll as an insufferably aristocratic Von Ruhnstedt. The film caused a critical stir in 1951 by providing a tense ten-minute dramatic sequence before the opening credits--a technique that is all but de rigueur today. The Desert Fox was based on the book by Brigadier Desmond Young, who narrates the film and appears as himself in the early scenes.
Rating:
NR
Genre:
, ,
Directed By:
Written By:
In Theaters:
On DVD:
Runtime:
Studio:
20th Century Fox Film Corporation
Critic Reviews for The Desert Fox
Audience Reviews for The Desert Fox
½
a decent but busy film that mostly is accurate, but features very little of Rommel's legendary battlefield tactics and record, and mostly focuses on his disagreement with Hitler and support of the conspirators.
Eric Jenkins
The first of two appearances by James Mason in one of his defining roles as Erwin Rommel, telling the story of his life from hero of the third reich through to his eventual disillusionment with Hitler and involvement in the plot on his life. No doubt inspired by Churchill's wartime tribute to the man, The Desert Fox is an acknowledgement of the skill and integrity of one of the world's greatest military tacticians which takes great pains to distance him from Hitler and the Nazi party. It is a typically romantic British attempt to be graceful in victory and is clearly meant as an attempt at reconciliation with Germany and its people; the story vehemently shows that Rommel and many of his colleagues were merely professional soldiers doing their duty to their country, unwillingly following the orders of a maniacal tyrant whom they had to obey under pain of death. It is basically de-dehumanizing an enemy that wartime propaganda had spent the previous years rallying the British public against. Mason is superb in the leading role, and every scene that features the exchanges between he and an excellent supporting cast paint a believable and respectful portrait of the man. Unfortunately the pacing stutters as it constantly feels the need to show the gallant allied forces through actual documentary footage and Michael Rennie's voice over makes this biopic feel like a dry inventory of the events of his life, but it's a fascinating story and worth it for Mason's performance alone.
½
The many strong performances, and especially Mason's, are still more than enough to keep a viewer watching, but in other regards this movie definitely shows its age; particularly the wooden narration, the use of obvious stock footage, and cheap sets interspersed with the extravagant ones. To its credit, this film avoids the patriotic one-sidedness common of war flicks of the era and pays a very reverential examination to this intriguing and undeniably brilliant military leader.
Ben Ritchie
The Desert Fox Quotes
There are no approved quotes yet for this movie.