Despicable Me 3
(2017)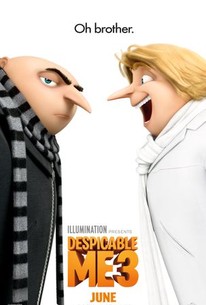 TOMATOMETER
AUDIENCE SCORE
Critic Consensus: Despicable Me 3 should keep fans of the franchise consistently entertained with another round of colorful animation and zany -- albeit somewhat scattershot -- humor.
Movie Info
Illumination, who brought audiences Despicable Me and the biggest animated hits of 2013 and 2015, Despicable Me 2 and Minions, continues the adventures of Gru, Lucy, their adorable daughters-Margo, Edith and Agnes-and the Minions in Despicable Me 3. Directed by Pierre Coffin and Kyle Balda, co-directed by Eric Guillon and written by Cinco Paul & Ken Daurio, the animated film is produced by Illumination's Chris Meledandri and Janet Healy, and executive produced by Chris Renaud. Joining Steve Carell and Kristen Wiig in Despicable Me 3 is Emmy, Tony and Grammy Award winner Trey Parker, co-creator of Comedy Central's global phenomenon South Park and the Broadway smash The Book of Mormon. Parker voices the role of villain Balthazar Bratt, a former child star who's grown up to become obsessed with the character he played in the '80s, and proves to be Gru's most formidable nemesis to date. The film will be released in theaters on June 30, 2017.
News & Interviews for Despicable Me 3
Critic Reviews for Despicable Me 3
Audience Reviews for Despicable Me 3
Despicable Me 3 is where I draw the line. No more, please. This was barely passable. It's a tired franchise that did well and we all enjoyed it to begin with but my God you don't need to wring it the flop out! Illumination clearly just want to make money, and yet creative studios like Laika can only just make their budget. It's a sad world, it really is. Anyway, in this chapter Gru is up against an old nemesis known as Balthazar Bratt, whom is trapped in his own 80's bubblegum bubble, so that he can further his status in the Anti-Villain League. But wait, there's more! Lucy is trying to be a mother to Gru's children and gain their respect. Wait...we're not done yet? The flipping irritating minions leave Gru as he no longer pursues villainy and we follow them in their small mischievous adventure. Surely that's it right? Agnes really wants to find a unicorn for real and tries her best to tame one. Seriously, it's done...*sigh*. Gru finds out he has a twin brother called Dru who has the flamboyancy of a flamingo. Please...no more plots!? Balthazar Bratt wants the diamond so that he can destroy Hollywood. DONE. I'm done. So Illumination learnt that having no plot (The Secret Life of Pets) was bad...so let's include six instead!?! What a mess, I mean it was constantly switching between each plot. Could've made six different sequels, although thank God they didn't. There really wasn't any need for this film to exist, it doesn't further anything than the previous two had already done. No character development whatsoever. I thought some of the voice acting was abit off as well, particularly for the children. The minions are the worst species to ever be conceived in animation and AGAIN are annoying as hell. In fact, hell is less annoying. I however did like the villain and the 80's soundtrack, I could easily relate to that. The animation was fluid and vibrant as well. There are a few scenes of enjoyment and I did smile on certain occasions. But it's not enough to warrant another sequel to a franchise that should just end. Surely...SURELY there cannot be another one...
Luke Andrews
Super Reviewer
Kyle Balda and Pierre Coffin are seeing double with Despicable Me 3. Running a brief, yet seemingly appropriate, 90 minutes, Despicable Me 3 manages a steady pace with its story. The laughs are too few for what transpires and the multiple characters follow segregated story lines which somehow splash together for the finale. Nothing stands out visually, but Despicable Me 3 continues to showcase its lovable characters, backed with a great soundtrack. Steve Carell pulls double duty nicely with Kristen Wiig and Trey Parker filling in the gaps. Miranda Cosgrove, Dana Gaier, and Nev Scharrel deliver as well. Despicable Me 3 has enough entertainment value; just not enough to dance its way into greatness.
Add new characters, stir, and voila! New movie. The villain being from the 80's gives the rationale for using music from those years, a little something for the parents taking their kids to see this. Less resonant than the first, but still viable. I enjoyed the play around the popular "it's so fluffy" line.
Kevin M. Williams
Super Reviewer
Despicable Me 3 Quotes
There are no approved quotes yet for this movie.
Discussion Forum
Discuss Despicable Me 3 on our Movie forum!