Dillinger è Morto (Dillinger is Dead)
(1969)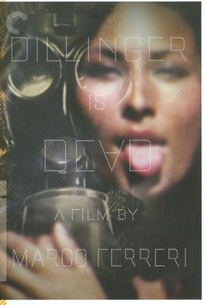 Dillinger è Morto (Dillinger is Dead) Photos
Movie Info
This offbeat combination of reality and fantasy finds Glauco (Michel Piccoli) returning home from his job as an industrial engineer to find his wife (Anita Pallenberg) in bed with a headache. Deciding to fix dinner for himself, he reads from a gourmet cookbook as he watches television, or listens to the radio. He runs across an old .45 caliber handgun and he cleans the weapon between attending to his culinary creation. He later goes to bed, but rises when he is restless and goes to make love with the maid (Annie Girardot), after which he examines the newly painted revolver. After shooting his wife to death, he imagines he is driven to the ocean where he swims out to a boat bound for Tahiti and takes a job as a cook. The title is a reference to the notorious American gangster who could shoot his way out of any place but the police line in front of Chicago's Biograph Theater.
Critic Reviews for Dillinger è Morto (Dillinger is Dead)
Audience Reviews for Dillinger è Morto (Dillinger is Dead)
A gas-mask designer finds a gun wrapped in newspapers in his pantry, then spends a long evening puttering about the house---fixing a meal, disassembling and reassembling the gun and watching home movies---then uses the gun in an act of completely unmotivated violence. Stultifyingly dull for the first half hour, but it slowly grows oddly fascinating as the night continues; a typical sort of late 1960s experimental movie that fortunately has a great ecclectic 1960s soundtrack to help with the slow parts.
½
[font=Century Gothic]"Dillinger Is Dead" starts with Glauco(Michel Piccoli) informing a colleague that he is done with designing gas masks. Arriving home, he is dissatisfied with the dinner left for him and starts to make a dinner for himself from scratch. While searching a closet, he comes across an antique revolver wrapped in a newspaper covering the death of John Dillinger. So, he proceeds to clean the gun.[/font] [font=Century Gothic][/font] [font=Century Gothic]That's pretty much the entire movie, folks. Okay, there are also home movies and an interminable music score. Even a couple of risque scenes cannot spice up the inaction. That's not to mention a climax that you could see coming from a mile or two away.[/font] [font=Century Gothic][/font] [font=Century Gothic]Then again, "Dillinger Is Dead" could be about the dehumanizing effect of violence.(Or maybe one heck of a midlife crisis.) You have the gun and the bullfighting but mainly it comes down to Glauco designing gas masks. So what he knows about poison gases is probably what keeps him awake at night. And it is ironic that a movie featuring insomnia might just be the perfect cure for the same condition.[/font]
Dillinger è Morto (Dillinger is Dead) Quotes
There are no approved quotes yet for this movie.