Don't Knock Twice
(2017)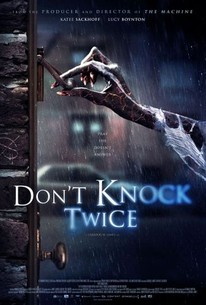 Movie Info
"Knock once to wake her from her bed, twice to raise her from the dead..." So goes a disturbing urban legend involving an abandoned house supposedly inhabited by a vengeful, child-stealing witch. When troubled teen Chloe (Lucy Boynton) raps at the door one night, she has no idea the horror she's about to unleash. Fleeing to the country home of her estranged mother (Katee Sackhoff)-a recovering addict who's turned her life around to become a famous artist-Chloe must learn to trust the woman who gave her up years ago in order to stop the bloodthirsty, shape-shifting demon stalking them. This wild supernatural shocker delivers a barrage of nonstop jolts and searing nightmare images.
Critic Reviews for Don't Knock Twice
Audience Reviews for Don't Knock Twice
½
Seeing as Katee Sackhoff was the best part of Don't Knock Twice, it might have worked in the movie's favour if the mother/daughter element was the focus, instead of just the backdrop for some oldhat horror. Creepiest part was when John Wick ate a baby.
Basically a modernized b-horror version of The Witch blended with The Babadook and dashes of Insidious and even Nightmare on Elm St. Great atmosphere and tension but mediocre execution of a formulaic plot that has become all too familiar for the genre. Its moments of true creepiness made it macabre entertainment, but unmemorable for the most part. However, I will give the film credit for its solidly dark ending.
Don't Knock Twice Quotes
There are no approved quotes yet for this movie.