Dracula Rising
(1993)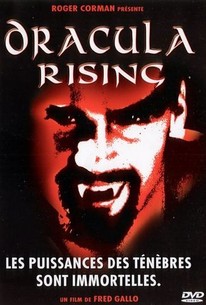 AUDIENCE SCORE
Critic Consensus: No consensus yet.
Movie Info
This Roger Corman production was undoubtedly conceived to capitalize on the success of Francis Ford Coppola's romantic vampire epic Bram Stoker's Dracula, though the Count himself is not actually a character. The story involves LA artist Theresa (Stacey Travis), who has fallen under the sensual spell of darkly handsome Vlad (Christopher Atkins). Since their first enigmatic meeting, she has been troubled by sexually tinged nightmares involving the mysterious stranger, and she cannot shake the idea that they have met before. Later, while on assignment in Eastern Europe restoring a macabre, Gothic monastery named "The Church of Lost Souls," Theresa encounters Vlad again -- incurring the ire of her Mephistophelean employer Alec (Doug Wert) and leading Theresa to believe that there is also a strange bond between the two men. As her dreams and visions become more disturbing and detailed, she discovers that they are intimations of a former life in which Vlad and Alec were bitter rivals for her affection -- a love which led to her death. With the aid of Vlad's vampire father, the pair became vampires themselves in order to while away the centuries before her soul could return -- which leads to the inevitable climactic confrontation between the two powerful foes in modern times. Deftly lit and photographed, with some effectively surreal dream sequences, this modest production succeeds thanks to a character-based screenplay that never lapses into the usual Cormanesque exploitation formula.
Critic Reviews for Dracula Rising
All Critics (3) | Fresh (1) | Rotten (2) | DVD (1)
The problem that low-budget filmmakers usually overlook when centering an entire movie around one soft-core sex scene: soft-core sex scenes generally run about 4 minutes.
Audience Reviews for Dracula Rising
I've started my collection of Vampire Movies, and this was a sad start for my collection. I'm convinced that anything from New Concorde is extreme B in nature. This movie is about a vampire of course falling in love with a human girl, the leader of the vampire cult brings her to Europe and tries all he can do to turn the girl, of course we have Vampire Wars. I can only give this one 2 stars.
Bruce Bruce
Super Reviewer
Dracula Rising Quotes
There are no approved quotes yet for this movie.