Dragon Head (Doragon heddo)
(2004)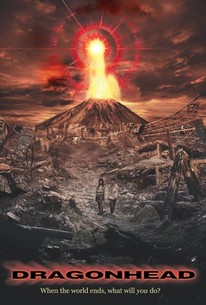 AUDIENCE SCORE
Critic Consensus: No consensus yet.
Movie Info
Schoolmates Teru (Satoshi Tsumabuki) and Ako (Sayaka Matsuda) survive disaster only to find themselves in a chaotic wasteland in this surreal adventure. After a devastating explosion, the two emerge from their express train unharmed. But the world outside is now a desolate landscape overrun by anarchists and villains. Determined to find the cause of the destruction, the pair heads to Tokyo and uncovers a mysterious force called Dragonhead.
Critic Reviews for Dragon Head (Doragon heddo)
All Critics (2) | Fresh (2) | Rotten (0) | DVD (1)
Dragonhead is dark, spooky, exciting, and (given the wild premise) rather fascinating, indeed.
Dragonhead is nothing short of extraordinary, a masterwork to rival the finest apocalypse films.
Audience Reviews for Dragon Head (Doragon heddo)
½
An absolute corker. Dragon Head is a film I knew nothing about. It starts in a demolished tunnel. A train crash. Three students have survived. 2 boys and a girl. They are unsure as to what has happened. One boy recalls seeing blinding lights outside the windows before the crash. This is the premise of the first 40 minutes, which works as its own film. One boy is hoping to be rescued but then plans his escape, while the other descends into madness. It's like a mini version of Lord of the Flies. I will mention the girl only this once as she is the reason I didn't give this film a perfect 10. She is a whiny character, that screams when someone is attacking her and then screams at the person protecting her. She complains about the scary tunnel, but whines about how dangerous the escape looks. All she does is whine, bitch, moan, and generally irritate. This first 40 minutes serves as all the character development. It's a great idea to build a huge movie in such a confined space. After the students leave tunnel, they find the world is covered in something white. Destruction is everywhere, and it's hard to separate the sky from the land. The effects here are wonderful. It's a fantastical and daring image. As the students walk on they discover some other survivors. These survivors have lost all hope and are planning to end it for everyone. Based on a Manga, the film should be episodic. However, due to the emotional connection developed, each scene has a welcome fluidity that allows it to go from creepy birthday party gone wrong, to helicopter action sequence. As the film begins to wind down, it has no reservations with slowing it all down allowing us to appreciate all the messages. It's a film about hope, where those that give up are the real failures. As some of the characters begin to remove fear, they forget that it's the fear that helps us survive. One of the best disaster movies you will ever see.
Luke Baldock
Super Reviewer
nice special efx, decet acting..I lked the story..a bit of a downer but it will hold your interest
Dragon Head (Doragon heddo) Quotes
There are no approved quotes yet for this movie.