Du Levande (You, The Living)
(2007)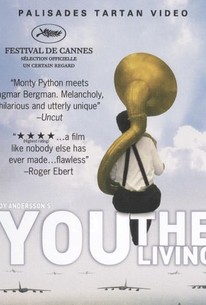 TOMATOMETER
AUDIENCE SCORE
Critic Consensus: Composed of humorous sketches of human behavior, Roy Andersson's You, the Living is an eccentric but highly entertaining and unforgettable work.
Du Levande (You, The Living) Photos
Movie Info
Filmmaker Roy Andersson draws the viewer into the world of a woman whose most uplifting moments are always balanced by tragedy, and whose joy is constantly offset by sorrow. In laughing along at the good times and shedding a tear at the bad, the comic tragedy of life manifests itself in a manner that all can surely relate to.
News & Interviews for Du Levande (You, The Living)
Critic Reviews for Du Levande (You, The Living)
Audience Reviews for Du Levande (You, The Living)
I've recently seen both "You, the Living" and "Songs from the Second Floor," and have concluded that Swedish director Roy Andersson is not going to win me over. With "You, the Living", we once again get a collage of moments and set pieces with no central narrative -- only a bleak theme of urban hopelessness. The trick is that because so little time is spent on any one character and the scenes are presented with such flat detachment, the people earn no empathy and we can watch their misery from a safe distance. This is one of the traits which allows the film to be categorized as "comedy," though at least two familiar bits -- a doomed attempt to yank the cloth from a set table, and the two queues which alternately slow or quicken depending on which one the hapless schmuck chooses -- are unmistakably humorous. Arguably, "You, the Living" is not even as solid as "Songs from the Second Floor," due to less creative imagery and a more diffuse message. The most visually memorable sequence is a fantasy in which a young, vulnerable groupie imagines being married to a fictional rock star. Their newlywed, kitchen-sink putterings are nothing out of the ordinary -- except that their apartment building is seemingly chugging along on a train track. Wonderfully executed. But "Second Floor" had several images just as vivid. Other melancholy sights include a restaurant pickpocket choosing his moment, a man slowly dragging a leash-tangled dog, a monologue from a weary psychiatrist, repeated "last calls" in a neighborhood bar, a barber who vengefully buzz-cuts an obnoxious customer, the death of an executive and a man fretting about banking problems while a chubby woman gracelessly rides his body. The sum is greater than the parts, but not by much. Two consecutive scenes sometimes contain a repeat character, but no one's story advances much beyond an initial situation. The most notable development in "You, the Living" is its emphasis on music. While not exactly a "musical," the film has quite a few lyrical passages: an electric guitar solo, a woman singing in the bathtub, a rousing banquet song, a funeral hymn and multiple intrusions of "oompah"-style band music. Characters practice their instruments alone -- even when it's just the banal pounding of a bass drum -- and later unite in ensembles. And in one early scene, a despairing biker gal (who probably has more lines than anyone else) unexpectedly starts speak-singing in rhythm with the score. As with "Songs from the Second Floor," the camera scarcely moves. Just twice, and the second is an airplane shot where the foreground remains steady. Instead, the deep-focus scenes are meticulously choreographed and composed, aiming to make the eye roam both the central action and various background curiosities. It's a unusual directing style, and arguably more compelling than the story itself. Andersson's intentions remain unclear. Is he protesting this dreary state of civilization, or just sadly documenting it? "You have to do your best in life," advises one character. "Or at least try."
Eric Broome
Super Reviewer
You, the Living is an absurdist drama complete with musical numbers, a hilariously muffed tablecloth trick, and Beckett-like repetition. It's slow and often difficult to comprehend, but in the end, I found it relatively interesting and engaging. I think my two favorite moments are the failed tablecloth trick and the fact that during an execution, the audience is eating popcorn. One is just slapstick comedy, but the other is a good point about our voyeuristic fascination with violence and suffering. What this film amounts to is difficult to assess, but I think the general point is a lamentation about the impossibility of understanding other people. It is impossible to ever get inside someone else's consciousness, and this, the film implies, is the stem of human beings' remarkable cruelty and indifference. But at the same time, the desire to know others leads us to our triumphs. Overall, You, the Living is an interesting film for those who like absurdism, but it's too slow and veiled for many other audiences.
Jim Hunter
Super Reviewer
Artistically creative but most of this didn't engage me and the washed out colour scheme and funereal pace drain the life out of it.
Gordon Anderson
Super Reviewer
Du Levande (You, The Living) Quotes
There are no approved quotes yet for this movie.