Duelist
(2005)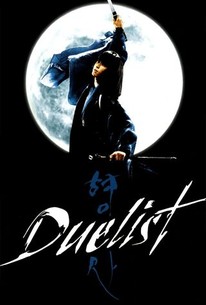 Movie Info
Director Lee Myung-se returns to the screen with his long-awaited follow-up to the acclaimed 1999 policier Nowhere to Hide. Duelist takes place in Korea during the Chosun dynasty, where a large-scale counterfeiting scheme threatens to send the whole country into chaos. Two cops, Detective Ahn (Ahn Sung-kee, who played the killer in Nowhere to Hide) and his young protégé, Namsoon (Ha Ji-won of Phone), stumble upon the plot while they're working undercover at a street fair. A masked swordsman (Kang Dong-won, whose character is identified in the credits as "Sad Eyes") uses his amazing skills to distract onlookers while he pulls off a robbery. Namsoon doggedly pursues him, and finds herself strangely but inexorably drawn to the young man, even as they have one violent encounter after another. While Sad Eyes relies on his swordsmanship, Namsoon is an expert with her two daggers. Their skills are comparable, and inconveniently enough, they seem to be falling in love. Eventually, the police investigation leads to Sad Eyes' employer, the Minister of Defense (Song Young-chang, another frequent collaborator of director Lee's), who is apparently using the counterfeiting plot in an effort to take over the government. Duelist had its New York premiere at the 2006 New York Asian Film Festival, presented by Subway Cinema.
Critic Reviews for Duelist
Audience Reviews for Duelist
½
Some reviews say this is all style over content, and maybe it is but I don't care. Beautiful beautiful beautiful historical film about two undercover cops (or whatever they were called in those days), the elder and staider Ahn, and the younger and crosser Namsoon, chasing counterfeit money and an enigmatic duelist called Sad Eyes through the markets and government houses of Korea. For people who love a pretty film.
This Korean epic story didn't make sense to me as what I thought it was really strange. In several swordplay scenes are bloody dull with a very slow motion and deeply dark through the night. At the beginning with the undercover detectives was quite funny, then in the dark scenes was boring that made me fall asleep - YAWN.
Dean McKenna
Super Reviewer
As seperate sketches or short scenes the film excels. It fully demonstrates large technical capabilities and an artistic eye. The final sword fight is simply gorgeous but seems more like some OTT advert. With all the impressive individual scenes put together in a loose plot that doesn't quite gel as well as no sense of tone the film is rather messy. Myung-se Lee's previous film Nowhere To Hide demonstated his visual and storytelling capabilities creating a beautiful and aesthetically original film. Here however even the music is all over the place sometimes being gentle classical before moving up to crunching heavy metal guitar riffs. All it accomplishes is a sense of doing too much and letting ones creative side take over the story.
Luke Baldock
Super Reviewer
Duelist Quotes
There are no approved quotes yet for this movie.