Early Summer
(1951)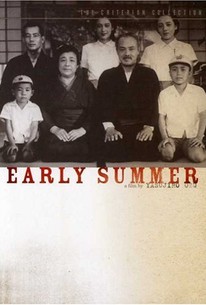 Movie Info
Writer/director Yasujiro Ozu combines two of his favorite themes--the culture clashes in modern Japan and the emergence of the independent Japanese woman--in Early Summer (Bakushu). Setsuko Hara plays a young woman of the post-war era who is promised in an arranged marriage. But too much has happened in the world and in the girl's own life to allow her to agree to this union without protest. The characters in Early Summer are neither remote historical personages nor distant foreigners. They are types as easily recognizable in Japan as in any country, and this commonality enhances the universal appeal of this austere film. Yasujiro Ozu collaborated on the script of Early Summer with Kogo Noda. ~ Hal Erickson, Rovi
Critic Reviews for Early Summer
Audience Reviews for Early Summer
Ozu is a master and telling simple stories about family, one of my favourite subject matters. A great story of tradition and modern life that truly reflects Japan with it's traditional cultures vs being on the cutting edge.
Christopher Brown
Super Reviewer
All bow before the three-headed God of Ryu, Hara and Ozu!
Bob Stinson
Super Reviewer
[font=Century Gothic][color=darkorchid]"Early Summer" is a Japanese film from 1951. It is about Noriko, who is a young woman with a stable extended family, lots of friends and a good job. She seems to be very happy but everybody within a thirty mile radius worries because she is 28 and has not married yet.(This is also a side issue in "Fear and Trembling" which shows that this topic has not gone away forty years later.) It is postwar Japan where European dress mixes with more traditional clothing. It seems like women are starting to work more out of the home. What director Yosujiro Ozu does, as he also did in his classic "Tokyo Story", is to make a wonderful movie out of the truly mundane tasks of everyday life. The central plotline is handled in a much gentler way than it was also handled in "Late Marriage". [/color][/font]
Early Summer Quotes
There are no approved quotes yet for this movie.