El Calentito
(2005)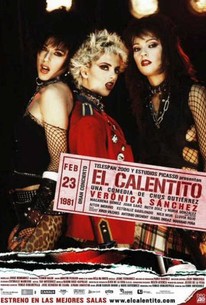 AUDIENCE SCORE
Critic Consensus: No consensus yet.
Movie Info
Filmmaker Chus Gutiérrez directs this high-spirited comedy set in newly democratic Spain and detailing the adventures of a teenage virgin who flees to a decadent nightclub in order to escape her tyrannical mother. Sara (Verónica Sánchez) may be virginal, but as with most teens she's got a rebellious streak a mile wide. Upon discovering a Madrid club known as El Calentito, Sara finally finds a place where she can be her true self. Anything goes at El Calentito, and the vibe at the club is both pansexual and punk rock. Presiding over El Calentito is motherly transsexual Antonia (Nuria Gonzalez). One of the biggest bands on the local scene is Las Sioux, so when lesbian lead singer and Joan Jett lookalike Carmen (Ruth Diaz) and free-spirited Leo (Macarena Gomez) invite Sara to join the band, the eager adolescent jumps at the chance. But on the night of their performance for a hig-powered record executive, something astonishing happens -- the remaining members of Franco's fascist regime stage a daring coup d'état. Will El Calentito survive the ensuing chaos, and what will become of Las Sioux? With the future of the entire country suddenly thrown into doubt, the club is suddenly infused with a newfound sense of energy and urgency, and young, innocent Sara will experience sights and sounds that she could never have imagined.
Critic Reviews for El Calentito
There are no critic reviews yet for El Calentito. Keep checking Rotten Tomatoes for updates!
Audience Reviews for El Calentito
This Spanish comedy is about Sara, young lady who is raised in a catholic family and is still a virgin. Trying to understand the "secrets of life" she stumbles her way to the underground nightclub El Calentito, owned by a sassy transsexual. The venue plays host to some of the hottest up-and-coming musical groups including Las Sioux, an all-girl rock band fronted by Carmen, who happens to be a lesbian, and Leo, who is always in some state of undress so her breasts can run free. It is interesting to mention that all this is happening in the politically conservative climate of the Franco regime, and it wasn't easy time for a club which became a safe haven for all forms of sexual expression: gay, bisexual and try-anything sexual. When their singer leaves, Sara gets invited to perform with Las Sioux and, on the night of her scheduled debut, February 23, 1981, an uprising occurs causing the government to collapse and a thrilling night of wild, uninhibited celebrations explodes... This was the time of the La Movida movement in Spain from which directors like Almodóvar and music groups like Fangoria found artistic inspiration... No wonder that El Calentito is a raucous, high energy comedy that is out, loud and in your face... some people like that... others don't... I was one of them... but I could not put this movie in average category - it is out there to be remembered!
El Calentito Quotes
There are no approved quotes yet for this movie.