Elektra Luxx
(2011)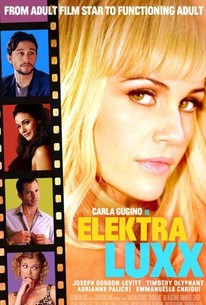 TOMATOMETER
AUDIENCE SCORE
Critic Consensus: A bizarre sex comedy full of meandering subplots, some occasional wit, and, unfortunately, not a whole lot of funny jokes.
Movie Info
Recently retired from the adult film industry, superstar Elektra Luxx (Carla Gugino) is pregnant with the child of late rock star Nick Chapel. She is trying to make ends meet by teaching a community college sex education class aimed at housewives when a figure from her past, flight attendant Cora (Marley Shelton), approaches her with a proposition. In exchange for the (stolen) lyrics to Nick Chapel's last record, all of which is about Elektra, Cora needs Elektra to seduce her fiancée. Elektra reluctantly agrees to do this favor, setting in motion a series of hilarious events which will see her come face to face with detectives, sex bloggers, emotionally unstable neighbors and the Virgin Mary herself as she wrestles with the prospect of motherhood and tries to become a person of substance.-- (C) Samuel Goldwyn
People Who Like this movie also like
News & Interviews for Elektra Luxx
Critic Reviews for Elektra Luxx
Audience Reviews for Elektra Luxx
½
Trouble has a name. Mediocre movie. "Elektra Luxx" is not really a comedy, but a quirky semi-serious drama. There are three vaguely connected subplots, one about the life of Elektra Luxx, another about a blogger and the third about two female friends of Elektra. While the main subplot of Elektra's life is interesting, the latter two subplots seem to add little to the main story. They seem disconnected and seem to function as fillers. Or, they are just reasons to put some soft porn in. I find "Elektra Luxx" not so engaging or captivating as it potentially could be. What surprises me the most is the number of big names in the film, such as Joseph Gordon Levitt, Malin Akerman and even a long cameo by Julianne Moore. Pregnant porn star Elektra Luxx is trying to make a split from the adult film industry by making a living teaching sex classes to housewives. But her life is thrown into disarray when a flight attendant with ties to Elektra's past approaches her for a favor. Chaos and hilarity ensue as fiancees, private investigators, a twin sister, best selling authors and even the Virgin Mary force her to face up to an unexpected series of decisions and revelations.
Elektra Luxx is the slightly improved sequel to Women in Trouble. If you enjoyed that movie at all, then this one will also probably be worth your time. A lot of the failed attempts at humor where left out this time around, and the story focus also lies more heavily on the characters of Elektra (Carla Gugino), Holly Rocket (Adrianne Palicki), Bambi (Emmanuelle Chriqui), and Bert (Joseph Gordon-Levitt). The storylines of those characters in the first movie are continued right where they left off, and they're also joined by a few new faces like Timothy Olyphant, Malin Akerman and Lucy Punch. Elektra Luxx is also a much tamer movie than Women in Trouble, despite the fact that most of its characters are still porn stars. Besides a few curse words, this could have been a PG-13 film. As I said before, check this out if you're interested in the continued lives of the characters from Women in Trouble (the doors are left wide open at the end of this movie for a third entry in the series). Otherwise, there's not a whole lot of reasons to go out of your way to see this.
"From adult film star to functioning adult." Life for porn actress Elektra Luxx gets turned upside down when she finds out she's pregnant.
REVIEW
"What kind of person are you?" Retiring pregnant porn star Elektra Luxx (Gugino) fills her days by teaching a sexology class. After being approached by a stranger with ties to her dead ex-boyfriend her day starts to get weird. If you have seen the previews to this then you think you know what the movie is about. You would be wrong. From what I saw I expected a very funny comedy. While this movie does have it's funny moments, at its core it actually a very moving story. A woman who is trying to figure out where her life is is the one everyone seems to go to for advice, help or anything she can provide. Being that the movie is about a porn star there are a few pretty raunchy scenes and dialog, but no where near what you would have expected. The acting and characters are very entertaining that it makes you want to watch and see everyone get what they want. This is not at all what I expected, it was better. Overall a very touching, and somewhat funny story about finding out and being comfortable with who you are.
Lorenzo von Matterhorn
Super Reviewer
Elektra Luxx Quotes
There are no approved quotes yet for this movie.