Em Embalming
(1999)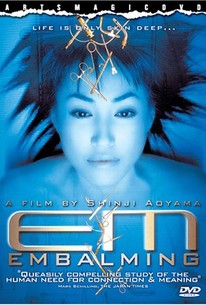 AUDIENCE SCORE
Critic Consensus: No consensus yet.
Movie Info
Tales of the Gimli Hospital meets Michelangelo Antonioni in this bizarre horror flick directed by auteur Shinji Aoyama. Though the act of embalming is quite rare in Japan -- the first Japanese-born embalmer set up shop in 1997 -- Miyako Murakami (Reiko Takashima) makes a living by preserving the dead. One day, she gets a job from Detective Hiraoka (Yukata Matsushige) -- a teenaged boy named Yoshiki Shigno (Masatoshi Matsuo) fell to his death but it's unclear whether it was suicide or murder. She begins to suspect foul play when she discovers a needle stuck in corpse's flesh. The case gets even weirder when someone breaks into the embalming room and makes off with teenager's head. When Miyako's elderly assistant (played by director Seijun Suzuki) tells her and the detective about a shadowy cabal of body part-dealing embalmers lead by Dr. Fuji (Toshio Shiba), they set out to find him. After a police bust finds a stack of corpses but no head, Miyako tracks down Dr. Fuji, a rail-thin man with a freakish stare, who tells her horrific tales about being a military doctor during the Vietnam War. He also tells her that Yoshiki's stark-raving mad girlfriend is the probable culprit of the crime. ~ Jonathan Crow, Rovi
Critic Reviews for Em Embalming
There are no critic reviews yet for Em Embalming. Keep checking Rotten Tomatoes for updates!
Audience Reviews for Em Embalming
½
A lot of places will have Embalming classified as a Japanese horror and that is a bit deceiving. Director Shinji Aoyama actually creates more of a crime thriller with this movie.
The story is intriguing in the way that it is unique. The main points of focus are the art of embalming and a person with 4 multiple personalities. That is definitely a combination not seen in everyday movies. Anyway, this 95 minute production goes by very very slowly. There is major emphasis on story, with little in the way of anything else.
Long dialogue driven scenes fill this movie from beginning to end, which is why I mentioned that this is more of a murder mystery. There are no scares, however the few embalming scenes can be a bit queasy for the weak stomached. There are also a few shootouts, which seem unnecessary and unrealistic. All in all, this is a pretty uneventful film.
The acting isn't spectacular, but it is good. Reiko Takashima and Yutaka Matsushige carry this movie, while Toshio Shiba and Hitomi Miwa portray the more interesting characters. Long time director, Seijun Suzuki, also finds himself in the supporting cast.
It truly is the story and the meaning of love and immortality that are the highlights of Embalming. This is for people that don't mind enduring a slow, but interesting film.
Em Embalming Quotes
There are no approved quotes yet for this movie.