Enskilda samtal (Private Confessions) (Private Conversations)
(1999)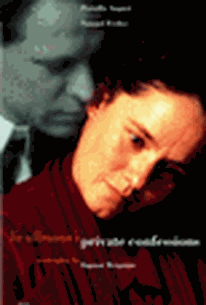 Movie Info
Originally made for television and directed by distinguished Swedish actress-turned-director Liv Ullman, this provocative drama is a sequel to director-turned-screenwriter Ingmar Bergman's autobiographical Bille August-directed drama Best Intentions (1992). Returning to their roles of Bergman's parents are actors Pernilla August and Samuel Froler; their discussions are divided into five sections that take place over several years beginning on a Sunday in July, 1925 when young Anna Bergman runs into her old friend and mentor Jacob (Max von Sydow) an aged priest. She is obviously distraught about something and soon confesses to him that she has been cheating on her husband Henrik, also a priest, with yet another man of the cloth named Tomas Egerman (Thomas Hanzon). Jacob suggests she immediately end the affair and inform her husband. Several weeks pass and Anna finally heeds Jacob's advice. When her words finally sink in, Henrik becomes angry and begins grilling her for details. Her further confessions make matters worse. The tale then flashes back to Anna's seduction of Tomas, a situation which reveals truths unspoken by Anna in her confessions. The fourth segment of the story is set several years later. Anna visits the now elderly and frail Jacob. The final discussion jumps back to 1907 when the adolescent Anna first met Jacob and this segment reveals a few more truths about the nature of her friendship with Jacob. ~ Sandra Brennan, Rovi
Critic Reviews for Enskilda samtal (Private Confessions) (Private Conversations)
Audience Reviews for Enskilda samtal (Private Confessions) (Private Conversations)
Although this is technically an Ullmann directed film, it has all the feel of Bergman that goes beyond what he provided in the written script. What we discover is how much of the real Bergman story is portayed in his films.
John Ballantine
Super Reviewer
Enskilda samtal (Private Confessions) (Private Conversations) Quotes
There are no approved quotes yet for this movie.